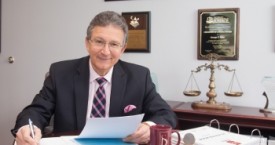 George Sinas has been recognized by Leading Lawyers as a "Top 10″ Michigan plaintiffs' personal injury lawyer. He is one of only two personal injury attorneys outside the metro-Detroit area to be listed in the Top 10.

"I am humbled to receive such recognition," said George, who is managing partner at the Sinas Dramis Law Firm. "This is especially true considering the other outstanding personal injury lawyers who are listed. It's an honor to be in their company."
George has also been named by Leading Lawyers as one of Michigan's "Top 10 Consumer Lawyers."
Attorneys who are recognized by Leading Lawyers are recommended by their peers as being among the best in their practice area. Less than 5 percent of all Michigan attorneys receive the Leading Lawyers distinction.
Upon learning of his Leading Lawyers recognition, the no-fault community was quick to congratulate George, who serves on the executive committee of the Coalition Protecting Auto No-Fault (CPAN). Here just a few of the kudos that George received:
"Congratulations, George! You are a great mentor and example for all to be inspired."  ~ Pam Feinberg, CPAN board of directors
"Bravo, George! This is a well-deserved honor!"  ~ John Prosser II, CPAN board of directors
"Great work, George!" ~ Jon Cornack, CPAN president
The Leading Lawyers designation is one of many honors that George has received during his legal career. He received Michigan Lawyers Weekly's "Lawyer of the Year" award in 2013, the Michigan Association for Justice's "Champion of Justice" award in 2014 and the Michigan Defense Trial Counsel's "Most Respected Advocate" award in 2015.
Additionally, three other Sinas Dramis partners/personal injury attorneys have been recognized by Leading Lawyers:
James F. Graves — "Top 100 Outstate (Non-Detroit Metro) Lawyer" and "Top 100 Consumer Lawyer"
Michael E. Larkin — "Top 100 Outstate (Non-Detroit Metro) Lawyer" and "Top 100 Consumer Lawyer"
Bryan J. Waldman — "Top 100 Leading Lawyer," "Top 100 Outstate (Non-Detroit Metro) Lawyer" and "Top 100 Consumer Lawyers"
Please join us in congratulating George, Jim, Mike and Bryan on their well-deserved recognition!
And there's more good news. George and the Sinas Dramis Law Firm have also been prominently featured in the very first issue of Leading Lawyers Magazine – Michigan Edition.
The article, "George Sinas: Family Legacy Bolstered Auto No-Fault Expert," details George's storied career as a Michigan personal injury attorney and emphasizes his expertise in Michigan no-fault law. The article tells of the Sinas Dramis Law Firm history, including the story of the unbreakable bond between firm founders Thomas G. Sinas (George's father) and Lee C. Dramis, and highlights the legal legacies of partners Jim Graves, Mike Larkin and Bryan Waldman.
We hope you enjoy reading it!