James F. Graves Receives Thomas E. Brennan Lifetime Achievement Award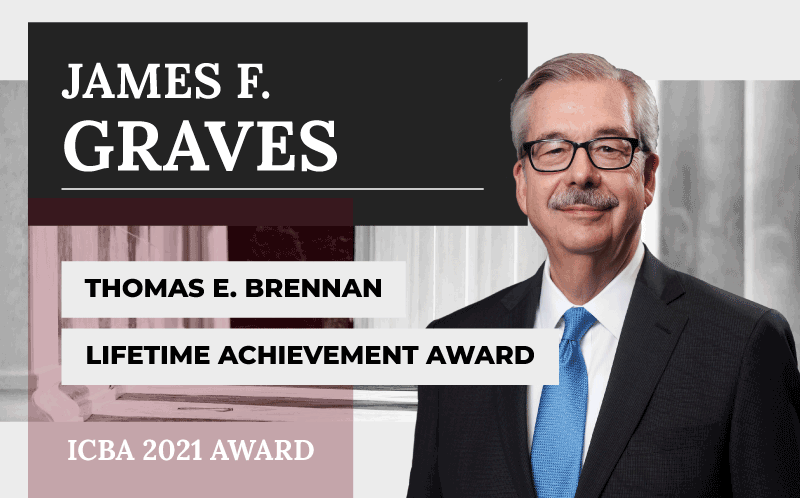 We are pleased to announce that Lansing personal injury attorney and Sinas Dramis Partner, Jim Graves, is the 2021 recipient of the Ingham County Bar Association's Thomas E. Brennan Lifetime Achievement Award. Ingham County Bar Association recognizes lawyers who have made a significant and longstanding contribution to the advancement or improvement of the justice system and the betterment of the legal profession in the State of Michigan and have also attained professional excellence as demonstrated by accomplishments in the law or service to the profession during his or her career with this Award. The Lifetime Achievement Award may be given in any one year. However, ICBA only gives this award in those years when an exceptionally worthy recipient is nominated. Jim's dedication to excellence, consistent pursuit of justice on behalf of his clients, and commitment to Lansing and its surrounding communities make him an excellent candidate for this award. Jim is now the second Sinas Dramis attorney to receive this incredible distinction, following George Sinas' receipt of the award in 2018.
Jim's acceptance of the 2021 Lifetime Achievement Award is further recognition of the firm's long tradition of excellence and service to the public and the legal profession.
Lifetime Achievement, Career of Excellence
As a Michigan and Illinois personal injury attorney, Jim's portfolio of success is widely varied, ranging from complex aviation and nursing home wrongful death claims to representing survivors of the largest campus sexual assault case in history leading to a historic global settlement on behalf of hundreds of victims of former disgraced Michigan State University doctor, Larry Nassar. Jim has successfully handled hundreds of cases involving passenger vehicles, commercial vehicles, and motorcycles not only in Ingham County, Eaton County, and Clinton County but throughout the state of Michigan and in Chicago, Illinois. Through incredible tenacity, sharp legal acumen, and thorough understanding of the law, Jim's career is one of recognition, distinction, and success. In fact, in 2020, Leading Lawyers published an article featuring Jim's vast and ranging personal injury career.
Dedicated in Service to Lansing
When Jim Graves joined Sinas Dramis Law Firm, he continued the tradition of excellence and dedication the firm was founded on over 70 years ago in the practice of personal injury law in Lansing and beyond. As such, Jim has served in a variety of leadership roles in mid-Michigan throughout his career, including his roles as the Past President and Board Member of the Ingham County Bar Association and the Ingham County Bar Foundation, as well as former Officer and Board Member of the John D. Voelker Foundation. Additionally, Jim has taught aviation law as an adjunct professor at Western Michigan University Cooley Law School.
Congratulations, Jim, on this well-deserved distinction!