Katie Tucker Recognized as "Up and Coming Lawyer" by Michigan Lawyers Weekly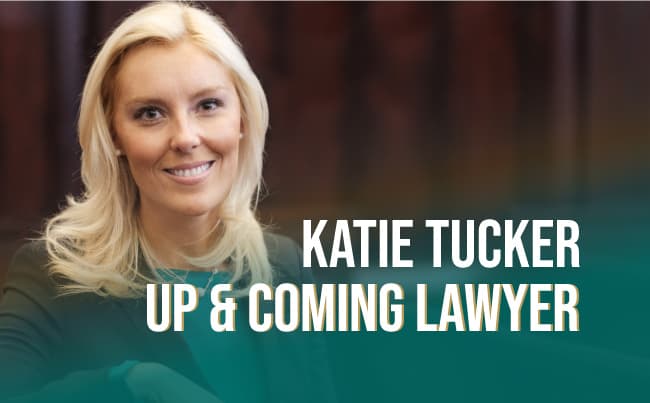 It is with great pleasure we announce Katie Tucker's recognition as an "Up and Coming Lawyer" for 2019 by Michigan Lawyers Weekly. A celebration luncheon for the honorees was held on December 5, 2019, at the Detroit Marriott in Troy, Michigan.
"I have had the pleasure of working closely with Katie for the past several years," says Sinas Dramis Law Firm Partner, Mike Larkin. "She is incredibly thorough, intelligent and dedicated to her clients. She is most deserving of this honor and I am proud to call her a colleague and friend."
Up and Coming Lawyers Credentials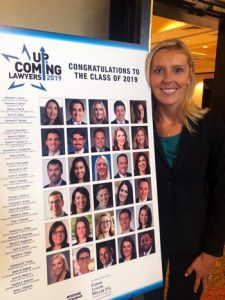 Michigan Lawyers Weekly honors attorneys in their first 10 years of practice with this unique distinction. Inclusion in the 2019 class of "Up and Coming Lawyers" is additionally determined by each attorney's willingness to go above and beyond for their clients, display of ambition, drive, and determination, and accomplishments that set them apart from their peers.
Katie Tucker leads the firm's no-fault medical provider practice group, focusing largely on medical provider claims against auto no-fault insurers for unpaid charges. In this role, she is exemplary, advocating not only for those injured in Michigan car accidents but also on behalf of the providers that care for them. She is a foremost expert on Michigan's auto no-fault system with understanding and acumen far beyond her years of practice.
In addition to her incredible work on behalf of her clients, Katie is also very active in the mid-Michigan legal community. Currently, she is the President of the Mid-Michigan Chapter of the Women Lawyers Association of Michigan and is an Ex officio Member of the Ingham County Bar Foundation. She is also very committed to the Lansing community and has volunteered her time in support of local charities and organizations including the Haven House, the St. John Food Cupboard, Legal Services of South Central Michigan, Boy and Girls Club of Lansing, Volunteers of America, Cristo Rey Community Center, and EVE.
We wish to extend our congratulations to Katie on this incredible accomplishment!