Michigan's New Auto No-Fault Law
In May 2019, Michigan Legislature passed vast and sweeping changes to the state's auto no-fault law which was then signed into law by Governor Whitmer. This legislation fundamentally changes how the Michigan no-fault insurance system operates and will affect literally every resident in the state.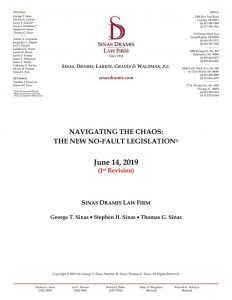 The Michigan no-fault insurance reform debate is nothing new. In the name of providing premium rate relief, this new law, however, has no cost-saving guarantees for Michigan families. Furthermore, these hastily passed bills leave more questions and concerns with regard to how the injured in our state will access treatment.
The attorneys at Sinas Dramis Law Firm have long understood the immense benefit of our state's auto no-fault system. Because of this, we have remained actively engaged in the reform debate, as no-fault thought leaders and fierce advocates. Now, with the passing of this new legislation, we are committed to educating the public regarding these changes.
George Sinas, Stephen Sinas, and Thomas Sinas spent countless hours pouring over the new legislation in the days following its passage. As a result, they've authored a comprehensive overview of the new auto no-fault law. It is our hope that everyone in Michigan has a better understanding of the new auto no-fault law, from those injured in Michigan auto accidents and their families or caregivers to fellow legal professionals, medical staff, and the general public.
This overview is free to everyone.
New No-Fault Legislation Overview
Helping Michigan Understand the Auto No-Fault Reform
Stephen and Thomas Sinas appeared at this year's People's Law School – a community educational event in Lansing – to discuss the history of reform efforts and the impact recent legislative changes will have on seriously injured individuals in car accidents in Michigan. While this legislation is massive and covering its vast changes in two hours is nearly impossible, the following two videos give viewers a good idea of the changes they can anticipate going forward. We believe the insight they shared is vital for everyone to understand and therefore offer it in two video segments below.
We were honored to present at People's Law School and appreciate everyone who came out and asked terrific questions.
Changes to Michigan Auto No-Fault Law
Auto No-Fault Law Changes – the Specifics
Below are some of the specific changes to Michigan's auto no-fault law. While some aspects were effective immediately, other portions will be coming into effect over the next year.
Michigan No-Fault Insurance Reform Speaking Events
We have currently postponed all speaking events in light of the COVID-19 crisis. Once we have more direction and certainty regarding the ability to safely hold meetings once more, we will continue educating Michigan's public. Please continue to use this page as a resource for changes to the no-fault system, and contact us to set up a meeting in the future. Thank you!
As part of our commitment to educating the public about their rights and legal protections, our attorneys are speaking to groups – including medical providers, insurance agents, and other key stakeholders – across the state regarding the new auto no-fault law changes.
If your group is interested in having us speak at your next event, please contact us.