Understanding Parental Liability for Teen Drivers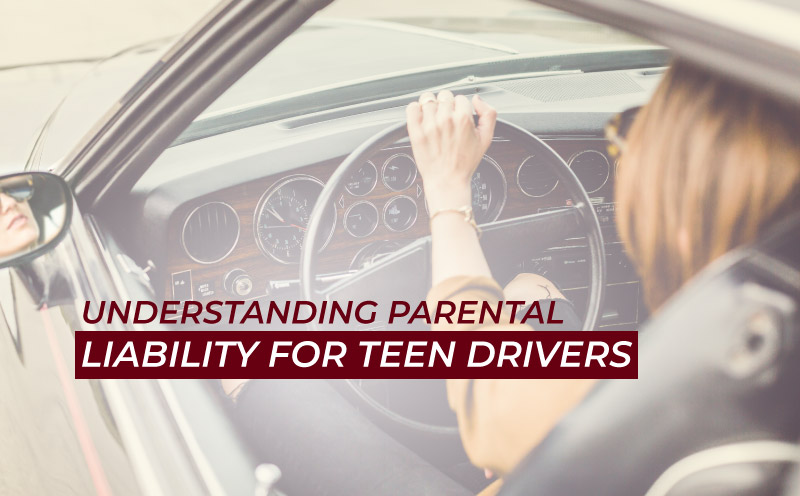 It goes without saying, teaching someone to drive, especially teenagers, is no small endeavor and it requires hours of training and supervision. Under Michigan law, teenagers must go through the Graduated Driver Licensing System before they can apply for a license. Importantly, teenagers aged 16-19 are the most at-risk group of being involved in a motor vehicle accident than any other demographic, according to the CDC. Additionally, 16-19 year-olds are nearly three times as likely as drivers aged 20 or older to be involved in a fatal car crash. With a higher involvement rate, parental liability for teen drivers is crucial to understand for anyone with a young driver on their auto insurance policy. In a recent appearance on Fox 17's "Know the Law", Grand Rapids car accident attorney, Tom Sinas, explains parental liability for teenage drivers.
Michigan's Auto Owner Liability Statute
Under Michigan's owner liability statute, the owner of a vehicle is liable or responsible for injuries caused by the negligent operation of that vehicle by anyone whom the owner allows to drive that vehicle. So, in the case of a teenager driving, if the parent owns the car and that teenager causes a crash, not only is the teenager liable, but the parent is also liable. This is also true for anyone else you've given permission to drive your car. You as the owner are also responsible if they cause a crash.
The owner of a vehicle is the person whose name appears on the legal title filed with the state. Michigan auto insurance law does make an exception regarding owner liability if someone takes your car without permission. However, Michigan law presumes that the person who took the vehicle had permission if the owner of that vehicle is an immediate family member. Therefore, if your teenage driver took your car, even without permission, you could still have liability in any car crash they may cause.
Negligent Entrustment
Parents of teenage drivers in Michigan should also be aware of another legal concept known as negligent entrustment. Under the theory of negligent entrustment, owners of vehicles involved in car crashes can be found liable. Negligent entrustment is when the owner of a vehicle lets someone else drive, when they know, or have reason to know, that the person in question is not a safe driver. Therefore, allowing your teen driver who has a record of unsafe driving patterns to use your vehicle can ultimately lead to parental liability for teen drivers.
Other "Need to Know" tips for Parents of Teen Drivers: Insurance
It's also important for parents to know when dealing with a teenage driver, they need to make sure they have a conversation with their insurance provider early in the new driver process. The vehicle that your teen uses to accumulate their required "behind-the-wheel" hours must have properly acquired no-fault insurance coverage. Oftentimes, this no-fault policy will cover your teen driver in the event they are in an accident. But it is important to understand that each Michigan auto insurance company may have different timeline requirements for notifying them when teenagers begin the process of learning to drive before they're licensed. As soon as your teenage driver begins regularly driving a vehicle you own you should notify your auto insurance company of this fact. Additionally, parents should talk to their insurer about whether or not to list a teenage driver as an additional driver or additional named insured on their auto insurance policy.
For more information about knowing when to insure a teenage driver, and what could happen if you don't click here.