People's Law School 2020 Goes Virtual!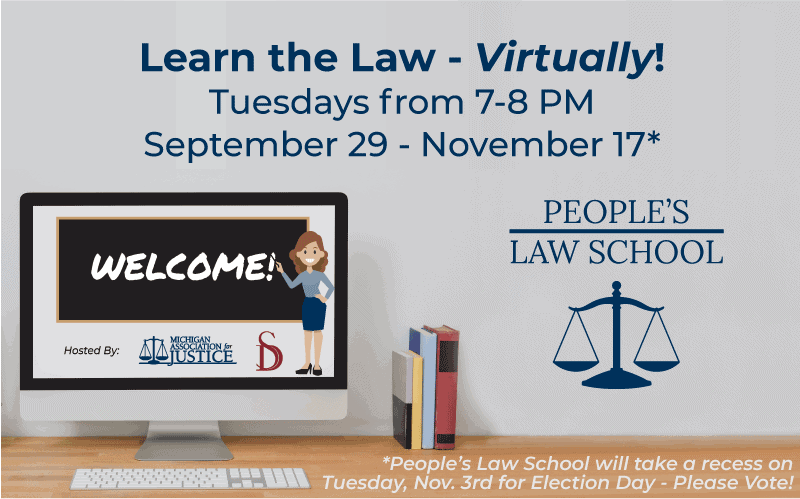 People's Law School 2021 – Postponed
It is with much disappointment we announce the postponement of the 2021 People's Law School. Unfortunately, due to many extenuating factors beyond the control of the hosts, the event series for fall 2021 must be postponed. We look forward to being back and helping Michigan residents understand their legal rights in 2022!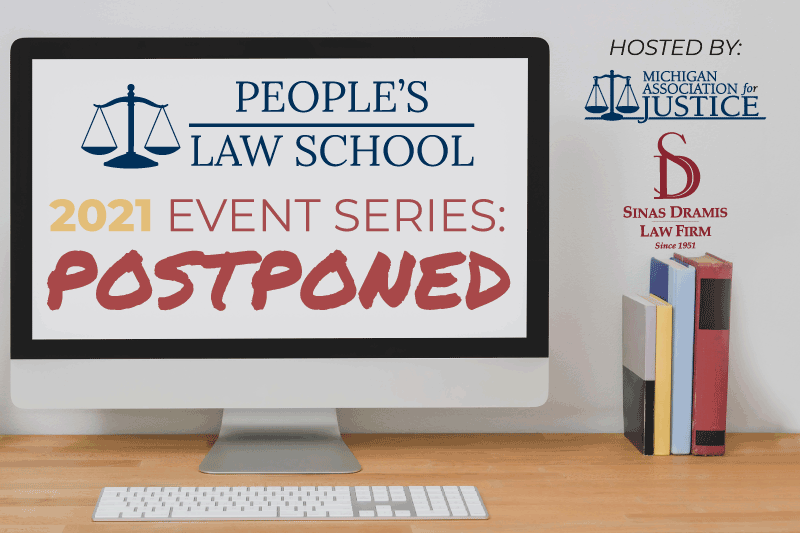 [parallax_row image="28157″]
We are pleased to announce that this year's People's Law School is going completely virtual! This free, legal educational series is an opportunity for Michigan residents to connect with some of the leading authorities in the legal field, including judges and lawyers, to learn important and timely legal topics relevant to life right now. This year's lineup of topics focuses largely on the current legal impacts of COVID-19, our state's recent auto insurance changes, and more! We hope you will attend and Learn the Law! 
What to Expect from People's Law School 2020
This year's series of seven presentations will take place over eight weeks on Tuesday evenings at 7 PM. We will take a recess on Tuesday, November 3, so everyone has the opportunity to get out and vote! Each class will be held via Zoom and feature a presenter from around the state who is a leader in their particular area of law. We are excited to offer People's Law School 2020 in this form, extending the accessibility of this free series across the state of Michigan and from the comfort of your home!
Each week includes a moderated one-hour presentation. Presentations will be followed by a 15-minute question and answer time. We encourage everyone to bring their questions! Participants can attend one, several, or all of the events, all for free!
People's Law School 2020 Speaker and Topic Lineup
| Date | Topic | Speaker |
| --- | --- | --- |
| 9/29/2020 | Distracted Driving & Pedestrian/Bicycle Law | Bryan Waldman, Sinas Dramis Law Firm |
| 10/6/2020 | Employment Survival Guide: COVID-19 and Beyond | Marla Linderman, Linderman Law |
| 10/13/2020 | Silver Tsunami: Issues Impacting the Elderly | Hon. Curtis J. Bell, Kalamazoo County Probate Court |
| 10/20/2020 | New Auto No-Fault Reform | Stephen Sinas, Sinas Dramis Law Firm |
| 10/27/2020 | Landlord/Tenant Rights During a Pandemic | Karen Tjapkes, Legal Aid of Western Michigan |
| 11/10/2020 | Fire & Explosion Cases | Steve Weston, Sinas Dramis Law Firm |
| 11/17/2020 | Your Right to Protest | Cynthia Heenan, Constitution Litigation Associates |
Register for People's Law School 2020
Please register for the event by clicking the button below. We hope to "see" you all there!
A special thank you to all of this year's fantastic presenters, and our co-hosts, Michigan Association for Justice, and our media sponsor, WLNS 6, for helping bring this legal educational series to our communities!