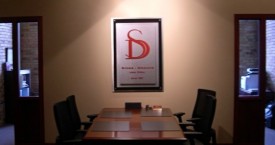 Adrian Copeland has joined the Sinas Dramis Law Firm as the newest personal injury attorney in the Grand Rapids office, where she focuses her practice on auto liability, auto no-fault benefit and car accident cases in West Michigan, primarily.
Adrian comes to the firm with 13 years' experience standing up for the rights of injured persons across Michigan. She has handled all types of personal injury cases, from auto no-fault to premises liability to dog bites to construction accidents.
Adrian was admitted to the State Bar of Michigan in 2003. She is a member of the Grand Rapids Bar Association, Michigan Association for Justice and The National Trial Lawyers.
A graduate of Eastern Michigan University, Adrian earned her law degree from Michigan State University College of Law. While in law school, she clerked at the Sinas Dramis Law Firm in Lansing.
"We are pleased to have Adrian joining the Sinas Dramis Law Firm," said the firm's managing partner, George Sinas. "For her, we are excited that she gets to come back home to the place where she started her career. For us, we feel very fortunate to welcome someone with such experience in our areas of practice."
Adrian's addition to the Grand Rapids office is part of the ongoing expansion of the firm's West Michigan location, and its commitment to serving clients from Illinois to northwest Michigan. Since being launched in 2013, the Grand Rapids office has nearly tripled its size, in terms of both personnel and square footage.
"Since opening our Grand Rapids office, we've grown from one attorney and no support staff to three attorneys and three support staff, and we've more than doubled our office space," said Grand Rapids personal injury lawyer Tom Sinas, who manages the West Michigan Sinas Dramis Law Firm office.
"We feel very fortunate to have experienced that kind of growth in a short period of time, and we're very fortunate to now have Adrian join the team," Sinas said. "She will allow us to continue to serve our existing clients from across the state, and position our firm for more growth in the decades to come."