Sinas Dramis Featured In Michigan Innovative Health Magazine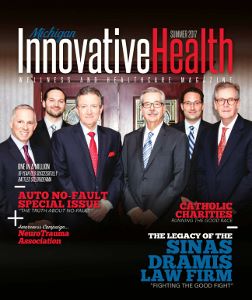 The Sinas Dramis Law Firm has been prominently featured in the pages of Michigan Innovative Health Magazine. As leading authorities on the auto no-fault insurance system, the Sinas Dramis team of Michigan car accident attorneys provided the content for the publication's Summer 2017 edition, which focuses on Michigan no-fault law.
Michigan Innovative Health Magazine is a quarterly publication that offers information on wellness and healthcare, particularly for veterans, seniors, youth, disabled persons and the catastrophically injured. The Summer 2017 issue is dedicated to no-fault law, in an effort to help educate the public on the history, purpose and importance of the No-Fault Act.
Several Sinas Dramis partners contributed articles to the special no-fault edition, including:
"A Quick Look Overview Of The Michigan Auto No-Fault Law" – By George T. Sinas
"Auto No-Fault: A Great System In Need Of Some Major Repairs" – By George T. Sinas
"Understanding The Whole Injury" – By Thomas G. Sinas
"Notice Requirements In Motor Vehicle Cases Against Governmental Agencies" – By James F. Graves
"Advice About Selecting Auto No-Fault Insurance Coverages" – By George T. Sinas
"Legal Representation For Auto Negligence Victims Under The Michigan No-Fault Law" – By Stephen H. Sinas
"It Takes A Team To Serve The Patient And To Save The System" – By George T. Sinas
In addition, an article titled "The Sinas Dramis Law Firm: Lawyers With A Legacy" served as the cornerstone piece of the magazine's special no-fault section. The article tells the history of the Sinas Dramis Law Firm, including the story of the unbreakable bond between law firm founders Thomas G. Sinas and Lee C. Dramis, both of whom struggled with health issues during their lives.
The article also highlights the challenges that were presented when Tom and Lee succumbed prematurely within just a few years of each another, leading to the subsequent rise of George T. Sinas (Tom's son) as one of the leading personal injury attorneys in Michigan, particularly in the area of auto no-fault law. The article further spotlights the legal legacies of firm partners Jim Graves, Mike Larkin and Bryan Waldman, as well as younger partners Stephen Sinas and Tom Sinas, who have distinguished themselves early in their careers as leading car accident lawyers in Lansing and auto accident attorneys in Grand Rapids.
Notably, the article reads:
"The Sinas Dramis Law Firm is what it is today not only because of the work that was begun by Tom Sinas and Lee Dramis so many years ago, but also because of the talents, achievements and family legacies of the other partners of the law firm, each of whom have brought their own unique talents, skills and contributions to the firm."
The Summer 2017 edition of Michigan Innovative Health Magazine is available online. We hope you enjoy reading it!