Sinas Dramis Legal Assistant Nancy Gibson Honored As An "Unsung Legal Hero"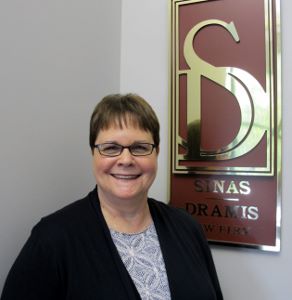 Sinas Dramis legal assistant Nancy Gibson has been recognized as a 2017 "Unsung Legal Hero" by Michigan Lawyers Weekly.
The "Unsung Legal Hero" award is given to Michigan's most talented and dedicated legal support professionals. It is reserved for law firm employees who have consistently gone above and beyond the call of duty, often with little fanfare or recognition.
Nancy is one of 20 honorees selected from across Michigan in the following categories: firm administrator, law librarian, legal marketing, legal secretary, IT, accounting, paralegal and legal education.
"We have a very dedicated and skilled group of support staff at Sinas Dramis, and I am very honored to be included in Michigan Lawyers Weekly's first group of 'Unsung Legal Heroes,'" says Nancy.
Nancy has been with the Sinas Dramis Law Firm for 32 years. During that time, she has worked alongside many notable mid-Michigan lawyers, and is currently legal assistant to Lansing personal injury attorneys George T. Sinas and Stephen H. Sinas.
"This is certainly a most well-deserved award, honoring a truly outstanding legal professional," says George, the firm's managing partner. "We are very proud that Nancy is a member of the Sinas Dramis family."
Nancy points out, however, that she did not purposely choose the legal field. Rather, she says the legal field chose her. A graduate of Grand Ledge High School, Nancy was a newlywed living in Virginia in 1975 when she decided to apply for a legal secretary position at a law firm. Although she had a two-year secretarial certificate from Central Michigan University, Nancy had never performed legal work. "They took a chance and hired me," she says. "That began my legal career."
Nancy returned to mid-Michigan in 1978 and worked at various law firms. In 1985, she found her "niche" when she began her career at Sinas Dramis. "It is a great place to work," Nancy says. "I am surrounded by well-respected attorneys and a very competent support staff — any of whom could qualify as an 'Unsung Legal Hero.'"
In fact, Nancy is just one of the many dedicated staff at the Sinas Dramis Law Firm. Collectively, the Sinas Dramis team of paralegals, legal assistants and other staff members have decades of experience. Notably, several staff members have been with the firm for dozens of years. The firm's success is due, in large part, to its excellent staff, who work tirelessly behind the scenes on every client's case.
According to Nancy, the best part of her job at Sinas Dramis is her co-workers and the variety of things she handles every day. She notes that, while the firm's cases are all similar in nature, each one has its own unique circumstances. Nancy says that, over the years, she has been especially touched by the fact that, while many clients have suffered tragedy in their lives, they truly appreciate the time and effort that's put into their case. "The thanks you receive from those people is by far one of the best parts of the job," she says.
When she's not working, Nancy enjoys spending time with her family. She is also an avid Michigan State hockey fan — her family has had season tickets since 1974. In fact, Nancy has traveled to Alaska three times to watch the Spartans play (with a few casino side trips along the way).
Please join us in congratulating Nancy on her well-deserved honor!