Bike Law Team Members Ride 250 Miles To Lids For Kids Event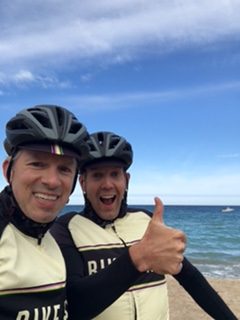 Update: We are pleased to announce that Lids for Kids – Michigan's premier bicycle helmet fitting and giveaway event – is returning for the 2022 season in Lansing and Grand Rapids! The Traverse City event is postponed this year. Learn more about Lansing Lids for Kids here and Grand Rapids Lids for Kids here.
---
Sinas Dramis attorney Bryan Waldman and friend Wade Burch enjoyed the Michigan scenery as they traveled to the May 14, 2016, Lids for Kids bike helmet giveaway in Traverse City. And they got an up-close and personal view of the state. Why? Because they didn't take the 250-mile trip by car. They rode their bikes.
Bryan and Wade, both Bike Law cycling team members, left downtown Grand Rapids on their bikes Thursday morning, May 12, with their final destination being the annual Lids for Kids bike helmet and bike safety event in Traverse City. The event, aimed at helping to prevent brain injuries in bicycle accidents, is co-sponsored by the Sinas Dramis Law Firm.
On their first day of bike riding, Bryan and Wade racked up a little more than 100 miles, traveling alongside Lake Michigan and passing through the cities of Muskegon, Whitehall and Pentwater, until stopping in Ludington.
On the second day, Friday, May 13, the cyclists continued their bike ride from Ludington to Glen Arbor, about 85 miles. They passed through the lake shore towns of Manistee, Onekama, Beulah, and Empire, and to the Sleeping Bear Dunes National Lakeshore.
The cyclists were uncertain of their bike route on Saturday, May 14. "We will see how we feel and decide if we will ride from Glen Arbor to Traverse City, or try to do some riding in the Leelanau Peninsula," Bryan said.
On Saturday morning, Bryan and Wade arrived at the Traverse City Lids for Kids event, held from 10 a.m. to noon at F&M Park.

"I have ridden this distance before," Bryan remarked about the trip. "Most of the bike rides I do are fast rides — racing and training for races. This will be a slow bicycle touring type of ride, taking our time and enjoying all that Michigan has to offer."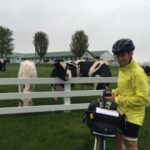 Bryan is no stranger to slower-paced bike rides. "I have done some tours like this, in Utah, Colorado, and Montana," he said. "The first being one with my father for his 50th birthday. We biked from Brian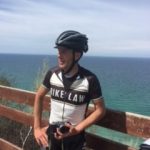 Head Utah to Bryce National Park, to the Grand Canyon and to Zion National Park, with the longest day being around 120 miles. A truly amazing experience and even more awesome being able to share it with my dad."