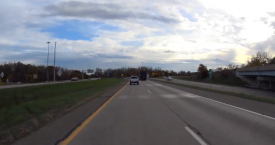 Understanding Dangerous Roads: Heavily Traveled & Congested Area

During the past several years, I-94 US-127 accidents in Jackson, Michigan, have become all too common, leading many to wonder why the area has steadily become known as a dangerous road in Michigan.
Just recently, two passenger vehicles and an SUV collided on US-127 at the westbound I-94 exit ramp. In June 2015, a catastrophic nine-vehicle pileup, including three jackknifed semi-trucks, happened on I-94 near Jackson, sending 11 people to the hospital. And just a few days after that historic pileup, several crashes closed eastbound I-94 between US-127 and Cooper Street.
Notably, I-94 is listed on the National Highway System, a network of roads designated as crucial to the U.S. economy, defense and mobility. As a result, I-94 is extensively traveled by both passenger vehicles and semi-trucks.
---
I-94 US-127 Accidents: The Numbers
In 2015, there were 154 motor vehicle crashes on I-94 in Jackson, from the Cooper Street exit to the US-127 intersection.* Luckily, none of the collisions were fatal, although 19 of them were semi-truck accidents.
Other 2015 statistics:
only one motorcycle was involved.
most crashes occurred in June (19 total).
there were 13 hit-and-runs.
22 crashes were caused by drivers age 60-64.
40 collisions occurred near entrance and exit ramps.
the most dangerous time to drive in the area is 5-7 p.m. (44 crashes total).
there were 71 rear-end crashes.
---
Why The Increase In I-94 US-127 Accidents?
I-94 is a major east-west shipping route between Detroit and Chicago. As such, it sees a fair share of Michigan semi-truck accidents, including where the interstate meets US-127, around the Cooper Street exit in Jackson.
Meanwhile, as the 2015 statistics show, passenger vehicles are also involved in many of the accidents on I-94 and US-127.
Based on an analysis of crash reports and numbers, there appears to be several reasons for so many I-94 and US-127 accidents:
a steady and heavy amount of traffic along I-94, as well as to and from a nearby shopping center.
short exit and entrance ramps.
congested exit and entrance ramps.
distracted driving — 28 crashes in 2015 were caused by drivers age 16-20 and, unfortunately, young drivers are known for using their cell phones behind the wheel (talking, emailing, texting, social media) — I-94 is a popular route for students traveling to and from Western Michigan University in Kalamazoo.
impatient drivers.

speeding (for both passenger vehicles and semi-trucks).
To stay safe on the I-94 and US-127 interchange, it is recommended that Michigan motorists:
be alert and aware of their surroundings.
drive the speed limit.
keep their attention on the roadway (i.e., put down the cell phone).
If you've been injured in a motor vehicle collision at the I-94 and US-127 interchange, or anywhere in Michigan, the Sinas Dramis Law Firm is here to help protect your right to no-fault PIP benefits and any other compensation to which you may be entitled. Contact our Lansing car accident lawyers or Grand Rapids auto accident attorneys today for a free consultation.
* most recent statistics – source: Michigan Traffic Crash Facts
Comments
comments