Recent Uptick In Pedestrian Accidents Triggers Safety Concerns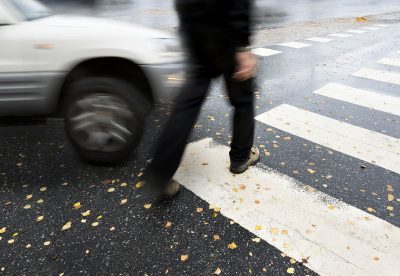 Pedestrian accidents are in the spotlight once again, after two Lansing men were struck by vehicles within a matter of days.
Both victims were crossing the same area of Martin Luther King Jr. Boulevard in south Lansing. One man died from his injuries, while the other was hospitalized with critical wounds.
According to the Lansing Police Department (LPD), the victims were not using the crosswalk.
It is notable that the area where the men were struck is a five-lane road that does not have a pedestrian crosswalk for more than a half mile (between West Holmes Road and West Mount Hope Avenue). As a result, it is reported that pedestrians often illegally cross this part of the roadway, which is maintained by the Michigan Department of Transportation.
As a result of the two pedestrian accidents within just days each other, the LPD is encouraging people crossing any street to use a designated crosswalk and pay attention to traffic signals.
Another important thing to remember in order to avoid pedestrian accidents: jaywalking is dangerous. And it's against the law.
---
Pedestrians: How To Keep Safe While Walking
Here are some tips for staying safe while crossing streets and walking along Michigan roadways:
To avoid pedestrian accidents, always cross streets at the designated crosswalk.
Avoid using a cell phone. The focus should be on your surroundings and safely getting to your destination.
Wear brightly colored clothing and/or reflective gear, particularly when it is dark.
Do not use headphones/earbuds because they limit your ability to hear what is happening around you.
Look both ways before crossing a street. While Michigan law says that pedestrians and other traffic have the right-of-way at a crosswalk or at an intersection, you cannot always assume that a motorist sees you and will slow down or stop.
Meanwhile, Michigan drivers also need to be mindful of pedestrians. Motorists should:
Constantly be aware of their surroundings.
Drive the posted speed limit.
Avoid driving distractions, including cell phone use (talking, texting, emailing or social media).
If driving early in the morning, watch out for children at bus stops and kids walking to school.
Know and understand their rights and responsibilities around school buses.
---
Pedestrian Accidents And No-Fault Benefits
Under the Michigan no-fault system, pedestrians injured in an accident may be entitled to first-party personal injury protection (PIP) benefits.
Other important things to remember:
to collect no-fault PIP benefits, the motor vehicle does not need to have physical contact with the pedestrian. Rather, it is only required that the vehicle played a significant role in causing the pedestrian's injuries.
because no-fault coverage is available regardless of fault in an accident, a pedestrian doesn't have to prove the driver was negligent in order to get injury benefits.
So what benefits can pedestrians recover? Here are the four kinds:
When it comes to paying benefits, the general rule is that anyone injured in an accident involving a motor vehicle must first look to their own no-fault insurance carrier for PIP benefits. This same rule applies to pedestrian accidents, even though the pedestrian's own vehicle may not have been involved.
If, for some reason, a pedestrian can't get benefits from his or her own no-fault policy, the pedestrian can look elsewhere for coverage. However, there is an "order of insurer priority" that must be followed.
Unfortunately, it can sometimes be difficult to determine which insurance company is obligated to pay benefits. In these situations, injured pedestrians are encouraged to contact a Michigan personal injury attorney, to help determine which insurance carrier is responsible for coverage.
---
Can An Injured Pedestrian Sue The Vehicle Driver For Negligence?
If the driver who caused the pedestrian's injuries was negligent, the pedestrian may be able to file a negligence lawsuit for "noneconomic damages," which includes pain and suffering.
An injured pedestrian may also be able to bring a negligence claim for "excess economic loss damages." These damages compensate the pedestrian for any losses beyond the three-year cap on PIP benefits, and may include excess wage loss for a person who cannot return to work.
Does it matter if a pedestrian was illegally crossing the street at the time of the accident? In third-party negligence suits, the answer is "yes." If the pedestrian contributed to the accident in any way – by jaywalking, for example – chances are that any damages awarded will be reduced by the amount of the pedestrian's own fault.
It's important to point out that the Michigan Court of Appeals, in its May 30, 2017 decision in Moon v Al-Sabti, said the following about pedestrian accidents:
"One safety rule from caselaw that has applicability to the present case is the following: 'Drivers must anticipate the presence of pedestrians at street crossings, and, when they so drive that they cannot see whether the crossing is clear, they must have their car under such control as to meet conditions which may be reasonably expected.'"
If you've been injured in a pedestrian accident and need help getting the Michigan no-fault benefits to which you're entitled, or you want to file a liability claim against the at-fault driver, contact our Lansing personal injury lawyers and Grand Rapids personal injury attorneys today for a free consultation.