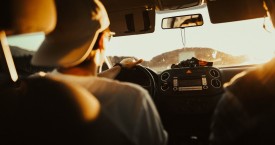 School's out and summer is in full swing. People are hitting the road on vacations and road trips. And a glance at last year's crash report reveals one thing – teen drivers contribute largely to the increased risk of a US 127 accident, one of Lansing's most dangerous roads.
Injured? Call for a free consultation today.
What We Know – Teen Involvement
Michigan drivers have entered what is known as the "100 deadliest days", a term coined by AAA Foundation for Traffic Safety. According to the organization, the days between Memorial Day and Labor Day see a 14% average increase in teen-related accidents compared with the rest of the year. In 2016 alone, 1,050 people were killed in car accidents involving a teenager.
As young, inexperienced drivers are released from school for the summer and tend to stay out later than usual, the occurrence of teen-related accidents increases. In fact, drivers aged 16 and 17 years old are three times more likely than adults to get into a fatal car accident.
This had us thinking. What about Lansing teen drivers and the correlation of having an accident on the 127/496 interchange?
A Glance At US 127 Accident, Statistically Speaking
In 2017, there were a total of 191 crashes at the US 127/496 interchange. The following stats involve teen auto accidents:
Eleven accidents involved teen drivers.
Three accidents occurred during the "100 deadliest days."
Two accidents happened between 8 p.m. and 1 a.m.
Five accidents occurred on dry road conditions.
1 crash involved alcohol.
The instance of teen-related accidents in this area nearly doubled from 2016 to 2017.
Lansing: we have to do better and keep our teen drivers safe. Here's what we can do.
Parents + Experience = the Best Teachers
Drivers between the ages of 16 and 17 have the highest car accident rate of any other age range. According to the Centers for Disease Control and Prevention, an average of six teenagers die every day in our country from a car accident.
As a method to reduce the chances of a US 127 accident, or any accident in general, parents and experience are the most influential to a young person's driving patterns. First, parents need to set a good example themselves. When teen drivers see road rage, speeding, tailgating, and other reckless driving habits, they are more likely to mimic those behaviors themselves.
Second, parents should set expectations. Driving a vehicle comes with great responsibility. As a parent, sit down with your child and draft a teen-driving contract that outlines responsibilities and expectations, such as curfews, state laws, and what happens if the agreement is broken.
Michigan Laws Keep Teen Drivers Safe
Michigan laws restrict teens from making non-emergency phone calls while driving, ban drinking and driving, limit the number of passengers in a teen's car, and restrict teen driving after 10 p.m., thanks to Michigan Graduated Driver License (GDL) regulations. Here's a closer look at the laws set in place to promote safety and reduce teen driving risks:
Level 1 Learner's License: teens can only drive with a licensed parent, legal guardian, or with parental consent, someone who is at least 21 years old.
Level 2 Intermediate License: teens cannot operate a car from 10 p.m. to 5 a.m. unless driving to employment, accompanied with a designated adult, or going to an authorized activity. Teens cannot drive a car with more than one passenger in the vehicle less than 21 years old, except when additional passengers are family members or going to authorized activity.
Level 3 Full License: teens with this license do not have any state-imposed restrictions on their license.
Consequences of violating these restrictions result in a license suspension for at least one year, after which driving will be reassessed. In conjunction with parental involvement, these regulations help keep young drivers safe on the road.
As personal injury attorneys dedicated to representing the seriously injured, the last client we want walking through our doors is a young driver. While a US 127 accident is still possible, it's our hope that with some education, good examples, and state regulations, our teen drivers are a little safer on the road, especially during the "100 deadliest days" of summer.
If you, a loved one, or your teenaged driver has been injured in an auto accident, we're here to help. You can call us for a free, confidential initial case evaluation at 866.758.0031 or fill out an online form here.