Shop with a Cop 2014
Members of Lansing personal injury law firm volunteered in 10th annual Shop with a Cop event
W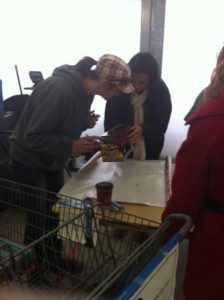 ith all of the hustle and bustle the holiday season brings, as we're worried about holiday cookies, throwing the perfect holiday parties, and buying just the right gifts for our friends and family members, it's easy to forget that there are so many others, especially young children, who would do anything to experience any of the festivities we associate with this time of year. Maybe they're in the foster care system, waiting to meet their special forever family. Perhaps their family isn't very well-off, meaning that having anything other than the bare necessities (if that) is not an option. No matter their circumstances, these are the children who Shop with a Cop is designed to help, and members of our Lansing law firm were happy to be involved in this past Saturday.
The premise of Shop with a Cop, a program that has operated for 10 years now, is simple. One hundred uniformed officers from various police agencies in Ingham County (both active and retired) are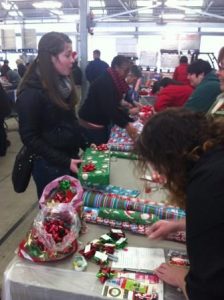 paired up with one hundred children between the ages of 5 and 12 who are less fortunate or have less than stellar home lives, and do not receive assistance from other charitable organizations. The children meet the officers at a local church before riding along (with sirens and lights on, of course) in a procession to the Walmart at Eastwood Town Center in Lansing. Through the generous support of members of the community and local area businesses, each child receives $100 to spend on holiday purchases. Children will often purchase gifts for members of their family, or even neighbors. Sometimes, however, realizing how difficult finances are at home, a number of children use their money to purchase necessities for their families, such as groceries, other household goods, warm shoes, or even socks. Once the children pay for their selections, volunteers from all over Mid-Michigan ("Santa's Elves") wrap and label the presents in the back of the store, getting them ready for families to pick up at the end of the event.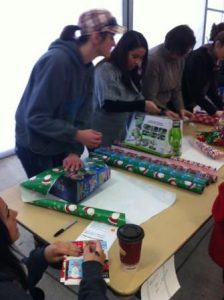 On Saturday, members of the Sinas Dramis Law Firm (along with friends and family members) donated their time, energy, smiles, and gift-wrapping skills to the 10th Annual Shop with a Cop event, sponsored by the Lansing Police Athletic League. From cheering on each and every child who entered with their officer and seeing the broad smiles on everyone's faces to wrapping the gifts and knowing we helped bring a little joy and happiness to the children's hearts that day, being able to experience such a heartwarming event was incredibly rewarding and humbling. We're grateful for the officers from the East Lansing Police Department, Lansing Police Department, Michigan State Police Department, Ingham County Sheriff's Department, Michigan State Police, and other local law enforcement agencies who came to support the children, for the volunteers who helped put this great event together, and to everyone who generously donated so that one hundred children could enjoy this special day.
Related Topics