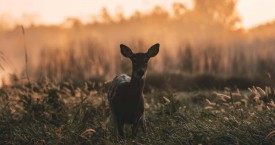 Michiganders sure love to hunt, and with Michigan deer hunting season upon us once again, there are several things to keep in mind before hitting the woods. Because hunting is so popular in Michigan, Tom Sinas recently shared information for West Michigan listeners on Fox 17 Know the Law, while Lansing attorney, Bryan Waldman, appeared on WLNS Legal Edge to discuss the topic for mid-Michigan viewers.
Michigan Deer Hunting Season and Chronic Wasting Disease
Simply put, Chronic Wasting Disease (CWD) is a disease that eats the deer's brain. Michigan DNR has established a few new guidelines for this hunting season in hopes of curtailing the disease. The main regulation is to basically eliminate baiting in the Lower Peninsula. A bait is anything that intentionally attracts deer, from a salt pile to a urine lure.
Deer-Vehicle Collisions
According to Michigan law, motorists are actually required to stop and report deer-vehicle collisions to law enforcement. Even if damage to your vehicle is minimal, you can technically be cited for not reporting the collision.
This time of year, it's especially important to drive safely and with caution, because deer are everywhere. In 2017 alone, there were 50,000 deer-vehicle accidents in the state. The following are tips for avoiding a collision:
Understand deer patterns – they typically cross the road in a line, so when you see one, slow down because there are likely more.
Never swerve – often when this happens, drivers find themselves in oncoming traffic. It's safer to hit the deer than another vehicle or a tree.
Fox17-KnowtheLaw-Deer-Season-Danger from Sinas Dramis Law Firm
Do Your No-Fault Benefits Apply?
A lot of people mistakenly believe that, since the collision didn't involve another vehicle, they aren't eligible for no-fault benefits. This is incorrect. Even if you are in a deer-vehicle collision, you're entitled to no-fault benefits. When a collision occurs, contact your insurance provider and make a claim just like you would if your accident involved another vehicle.
WLNS Legal Edge – The Laws Around Firearm Deer Hunting Season from Sinas Dramis Law Firm
Trespassing and Deer Hunting
While you're probably hunting on your own land, what happens if you shoot a deer who travels onto another person's property? If no trespassing signs are posted or the land is enclosed, this can become a crime. Always get the property owner's permission before entering private property.