Despite Improvements Saginaw Broadbent Accidents Continue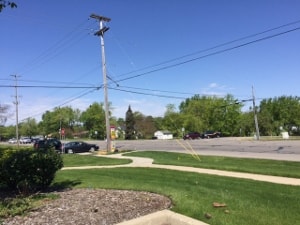 It's not unusual to see or hear about car accidents at Saginaw and Broadbent, which is why this west Lansing intersection has been designated a Michigan dangerous road. Saginaw heading into Grand Ledge (also known as M-43) is an east-west four-lane highway. Broadbent is a north-south two-lane road that crosses Saginaw.
In February 2017, the Michigan Department of Transportation (MDOT) once again denied funds to Delta Township to install a traffic signal at Saginaw and Broadbent. According to MDOT, a signal couldn't have been installed until Broadbent is widened. Recognizing the need for a traffic light, Delta Township and the Eaton County Road Commission agreed to split the cost of widening Broadbent. It took several years, but as of Monday, March 19, 2018, a new traffic light was fully operational. You can read more about that at the link above.
While the light is a good step in preventing crashes, this intersection remains one of Michigan's dangerous roads, and multiple accidents occur here each year.
Saginaw Broadbent Accidents: The Numbers
From January 1st, 2016 through December 31st, 2020, a total of 87 crashes have occurred at or near the intersection of M-43 (Saginaw) and Broadbent.
Prior to the installation of a traffic light:
2016: 19 Crashes
2017: 23 Crashes
Traffic light installed in March 0f 2018:
2018: 14 Crashes
2019: 22 Crashes
2020: 9 Crashes
As you can see, apart from 2020, where there less crashes in the state in general due to fewer people driving on the road during a pandemic, crashes at or near the intersection remain consistent.
Some of the crash causes include:
6 Distracted Drivers
5 Deer
12 Possibly Weather Related
Crash data provided by Michigan Traffic Crash Facts.
Saginaw Broadbent Accidents: What can be done?
When it comes to preventing accidents on Michigan's dangerous roads it's important to know that while some will still happen, some can be avoided. Remember to practice patience, put down the phone, follow the rules and regulations of the road, and educate young drivers.
If you've been injured in a motor vehicle accident at Saginaw and Broadbent in west Lansing, or anywhere in Michigan, the Sinas Dramis Law Firm can help protect your right to no-fault PIP benefits and any other compensation to which you may be entitled. Contact our Lansing car accident lawyers or Grand Rapids auto accident attorneys today.