Lansing Bike Helmet Giveaway Helps Protect Kids From Head Injury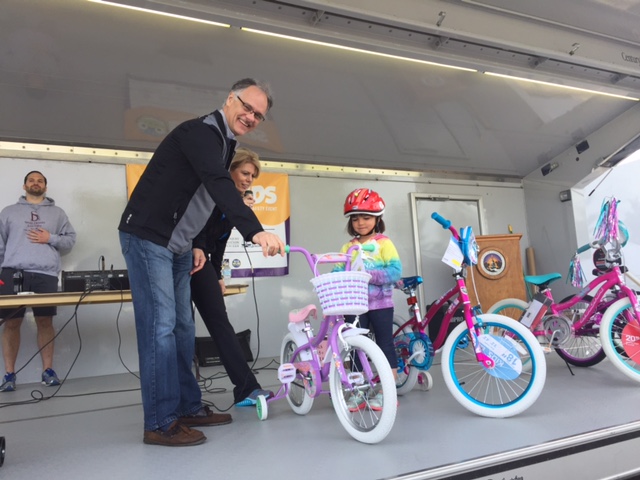 Update: We are pleased to announce that Lids for Kids – Michigan's premier bicycle helmet fitting and giveaway event – is returning for the 2022 season in Lansing and Grand Rapids! The Traverse City event is postponed this year. Learn more about Lansing Lids for Kids here and Grand Rapids Lids for Kids here.
---
On Saturday, May 20, 2017 hundreds of mid-Michigan families came to the Lansing bike helmet giveaway — also known as "Lids for Kids" — to get free, properly fitted helmets for their children.
In the end, 438 helmets were handed out at the Lansing Lids for Kids event. In turn, this means that 438 children now have a lesser chance of suffering a brain injury in a bicycle accident.
Eighteen kids who attended the Lansing bike helmet giveaway also won brand-new bicyc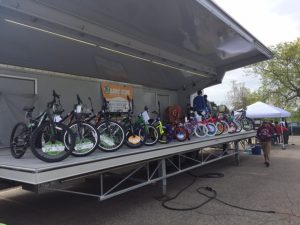 les, thanks to the generosity of several local businesses and individuals. Numerous other prizes were given away, too, including passes to Impression 5 Science Museum and NCG Cinema.
In addition to getting new helmets, kids and grown-ups alike especially enjoyed meeting and getting their picture taken with Sparty from MSU and The Big Lug from the Lansing Lugnuts baseball team.
For the first time this year, kids were able to custom decorate their new bike helmet. They also had their faces painted with exquisite designs, played games, met local firefighters and police officers, and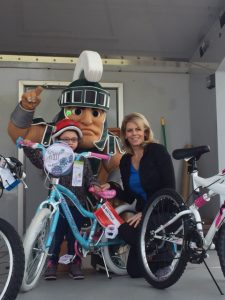 checked out a fire engine and police vehicles.
Lansing's Masonic Temple Lodge #33 was also on hand to provide free "Child ID" kits, containing the information that's needed to expedite law enforcement efforts to locate a missing child.
Sheri Jones, WLNS-6 evening news anchor, emceed the event again this year. The 2017 Lids for Kids was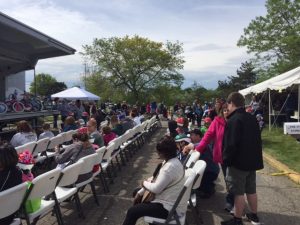 sponsored by the Sinas Dramis Law Firm, Brain Injury Association of Michigan, Origami Brain Injury Rehabilitation Center and the Michigan Association for Justice. Local media partners included WLAJ and WLNS, and 92.9 WLMI.
We thank all the sponsors and community partners for helping to make this important event happen.