Five Sinas Dramis Attorneys Named 2014 Michigan Super Lawyers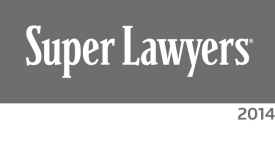 Four of our Lansing personal injury attorneys have been named Michigan Super Lawyers for at least 7 years
Five of the Sinas Dramis Law Firm's Lansing personal injury attorneys have been recognized as 2014 Michigan Super Lawyers in the Plaintiff's Personal Injury category: George T. Sinas, Timothy J. Donovan, James F. Graves, Bryan J. Waldman, and Stephen H. Sinas. Lawyers are selected for this distinction based on a number of factors, including a vote of their peers, which makes this designation so unique. Most of the attorneys designated as Michigan Super Lawyers have been recognized as such for at least seven years, beginning in 2006.

While being selected as a Super Lawyer in and of itself is a tremendous honor, Steve Sinas' designation is particularly unique. Normally, attorneys who have practiced for less than ten years are considered "Rising Stars", with the "Super Lawyer" designation reserved for those who have practiced for longer periods of time. However, Steve was named a Super Lawyer much earlier on in his career, first being recognized in 2013 and again this year.
The fact that five of our practicing attorneys have been named 2014 Michigan Super Lawyers is not only a testament to their hard work and dedication to their respective practices and the clients they serve, but it also speaks volumes of the high caliber of attorneys who work at the Sinas Dramis Law Firm. We take pride in representing personal injury victims and those who need representation. Our Michigan personal injury attorneys are equipped with the knowledge and expertise needed to represent you in whatever claim may arise, wherever you may be.
We are very proud of their accomplishments and are looking forward to seeing what our Lansing personal injury attorneys will achieve in the years to come. Please join us in congratulating them!