Michigan Court of Appeals Weighs in on Text Message Sender Liability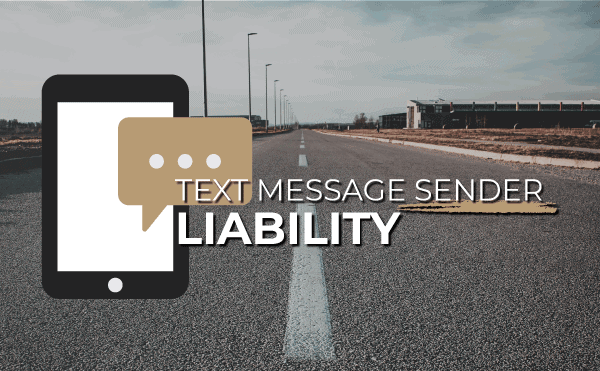 The Michigan Court of Appeals recently issued a decision regarding texting and driving. While most everyone knows that reading text messages while driving is against Michigan law, one case recently called into question whether or not the sender of a text message can also be held responsible for an automobile collision caused by distracted driving. Grand Rapids car crash lawyer, Tom Sinas, recently discussed this unique case and the issue of text message sender liability on Fox 17 "Know the Law."
State and Local Distracted Driving Laws Recap
First, Tom outlines current state law, which, he admits, are likely out of tune with the nature of today's technology. In short, Michigan's distracted driving law bans reading, composing, or sending a text message with a phone in the driver's hand or lap. Critics of this vague and loose law argue that other forms of cell phone use – perusing social media, watching YouTube videos, drafting emails – should also be banned and are equally or more so distracting. In addition, our state distracted driving law only applies to vehicles that aren't moving. Critics further argue it should apply any time someone is in a vehicle.
Due to lackluster state laws, local municipalities have recently begun taking distracted driving issues into their own hands. For instance, last year, Battle Creek passed a local ordinance banning cell phone use of any kind within that municipality.
Read more about Michigan's current distracted driving laws and a few recently proposed bills to make them more strict here.
Court of Appeals Decision Regarding Text Message Sender Liability
In this unpublished decision by the Court of the Appeals (which means it only affects the case at hand), the case involved a claim by a victim of a car crash against the person who sent a text to the other driver.
The argument was that the text message sender knew or should have known that the other driver was driving and should not have distracted them by sending a text. The Court of Appeals found that text message senders cannot be held liable for car accidents and injuries. Tom goes on to explain that the ruling re-affirms the foundation of all personal injury cases. There must be some relationship between the Plaintiff (the victim of the auto accident) and the Defendant (the person who sent the text message to the other driver). And in this case, there was no relationship, therefore there's no text message sender liability. At the end of the day, it was the other driver's decision to read that text message while driving. That decision ultimately led to the car accident, and the text sender was not liable for the resulting wreck.
RELATED READING
---