Traverse City Bike Helmet Giveaway: Hundreds Of Kids Get Properly Fitted Head Gear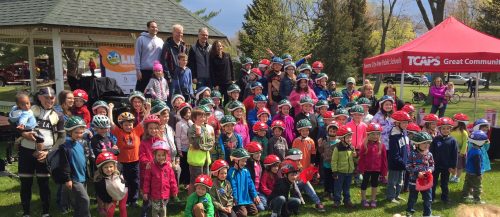 Update: We are pleased to announce that Lids for Kids – Michigan's premier bicycle helmet fitting and giveaway event – is returning for the 2022 season in Lansing and Grand Rapids! The Traverse City event is postponed this year. Learn more about Lansing Lids for Kids here and Grand Rapids Lids for Kids here.
---
More than 260 free bike helmets were handed out at the 2017 Traverse City bike helmet giveaway — also known as "Lids for Kids." The bike helmet and bicycle safety event was held Saturday, May 13, at F&M Park.
"It's so important to have those helmets on your head," said Wendy Nienhouse of Agevix Professional Network for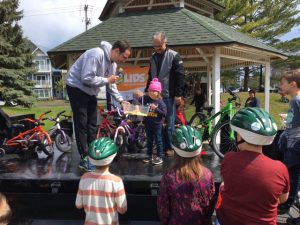 Exercise Therapy, who coordinates the Traverse City bike helmet giveaway, along with the Sinas Dramis Law Firm and other community partners. "We have thousands of kids who are injured and hospitalized every year from injuries and from biking. We can do better."
It was the second year for the Traverse City bike helmet giveaway. Despite some damp weather, families from across northern Michigan came out to get their free, properly fitted head gear. They also enjoyed family-friendly activities, learned bicycle safety tips, met local firefighters and law enforcement officers, and toured a fire engine. In addition, 20 kids won free bicycles, donated by McLain Cycle & Fitness.
Lids for Kids emphasizes the importance of bicycle safety and gives children the one tool they need to prevent brain injury in a bicycle accident: a prope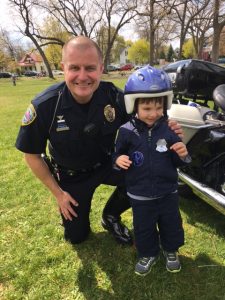 rly fitted helmet. Since Lids for Kids first began, nearly 8,000 bike helmets have been distributed to kids in Lansing, Grand Rapids and Traverse City.
Why give away free bike helmets in Traverse City? Because many bike riders often sustain preventable brain injuries simply because they do not wear helmets. Also, not every family can afford to purchase bike helmets for their kids.
The 2017 Traverse City Lids for Kids event was sponsored by the Sinas Dramis Law Fir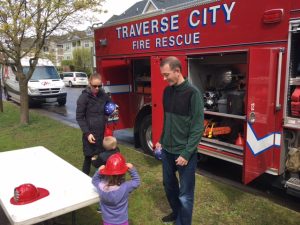 m, Brain Injury Association of Michigan, Agevix Professional Network for Exercise Therapy, Origami Brain Injury Rehabilitation Center and the Michigan Association for Justice. The 2017 local community partners were the Traverse City Area Public Schools, Norte Youth Cycling, McLain Cycle & Fitness, Grand Traverse Woman Magazine and WTCM NewsTalk Radio 580.
More information can be found on the Lids for Kids website.