Grand Rapids Lids For Kids: 439 Bike Helmets Handed Out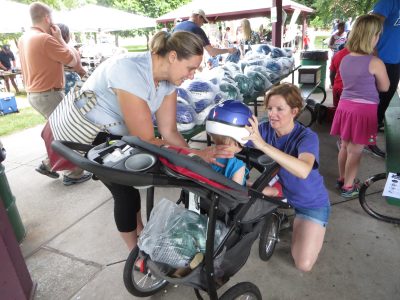 Update: We are pleased to announce that Lids for Kids – Michigan's premier bicycle helmet fitting and giveaway event – is returning for the 2022 season in Lansing and Grand Rapids! The Traverse City event is postponed this year. Learn more about Lansing Lids for Kids here and Grand Rapids Lids for Kids here.
Hundreds of Grand Rapids families came out on a hot and steamy day for our annual Lids for Kids bike helmet giveaway and bicycle safety event.
When all was said and done, 439 kids received a free, properly-fitted bike helmet at this year's event, which was held June 11 at Garfield Park. The best news is that these children now have a lesser chance of sustaining a brain injury in a bike-related accident.
Many of the kids who attended won new bikes, which were donated by Village Bike & Fitness. Other prizes were also given away, including passes to local museums, restaurants and entertainment venues.
The Grand Rapids Police Department and Fire Department were on hand to meet and greet the kids, many of whom toured a fire engine and inspected a police vehicle. Children also played carnival games and won prizes.
Christian Frank of West Michigan FOX 17 did a wonderful job emceeing the event. Thank you, Christian!
And Grand Rapids Mayor Rosalynn Bliss and State Representative Winnie Brinks joined the fun, chatted with families and helped draw the names of bike winners.
The event was sponsored by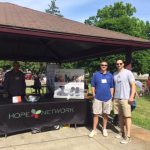 Sinas Dramis Law Firm and Brain Injury Association of Michigan. Community partners included Grand Rapids Public Schools, FOX 17, the Grand Rapids Fire Department, Hope Network and Mary Free Bed Rehabilitation Hospital.
We thank our community partners for helping to make this event happen. We couldn't do it without you!