Attorney Lauren Kissel Joins Sinas Dramis Michigan Personal Injury Team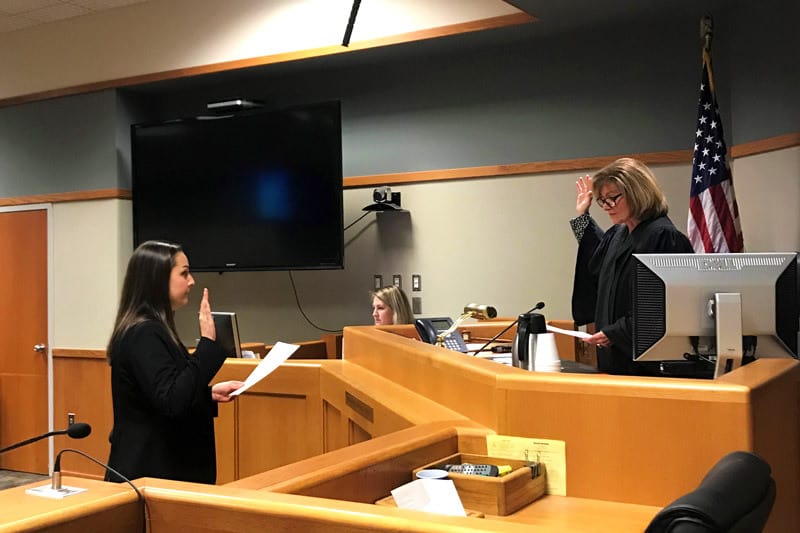 We are pleased to announce that attorney Lauren Kissel has joined the Sinas Dramis personal injury team. Lauren originally joined Sinas Dramis as a Law Clerk in 2017 while attending Michigan State University College of Law and quickly excelled at handling many aspects of Plaintiff personal injury cases. Upon entrance to the State Bar of Michigan, she accepted a position with the firm as a practicing attorney. As the newest member of our Michigan auto accident legal team, she will primarily focus her practice on cases involving accidents between motor vehicles, motorcycles, and semi-trucks.
Attorney Lauren Kissel's Swearing-In Ceremony
At Ms. Kissel's recent swearing-in ceremony, held at the Michigan 54B Judicial District Court with Judge Andrea Larkin presiding, Sinas Dramis partner, Steve Sinas, spoke of Lauren's incredible accomplishments, both academically and personally. While attending Michigan State University College of Law, Lauren spent a semester in Washington D.C., working with the Environmental Protection Agency's Suspension and Debarment Division. She also acted as Managing Editor of International Law Review and participated in MSU's Food Law Clinic. Ms. Kissel also exhibits a strong moral character on a personal basis, having dedicated much of her time in high school and college to volunteerism and mission work.
"We are pleased Lauren is joining the Sinas Dramis team," says attorney Steve Sinas. "During her time as a Law Clerk at the firm, her skills became apparent immediately. She is incredibly knowledgeable and will work diligently to protect the rights of her clients."
Originally from the east side of the state, Lauren now calls Lansing home. In her spare time, she enjoys reading, playing soccer, and spending time outdoors. Please join us in welcoming Ms. Kissel to the Sinas Dramis legal team!