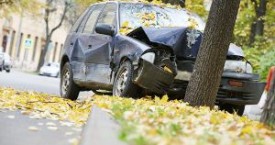 Summer is almost here, and many Michigan families will be driving the nation's highways to reach their vacation destinations, and to visit family and friends. During their travels, some of these motorists will unfortunately be involved in a car accident in another state. The question then becomes: does their Michigan no-fault insurance cover the out-of-state crash?
In general, the answer to this question is "yes" — Michigan no-fault coverage does typically apply to a car accident in another state.
However, it is important to remember some things about no-fault insurance coverage when it comes to an out-of-state auto accident.
---
No-Fault Coverage For A Car Accident In Another State
In order for Michigan's no-fault system to cover a car accident in another state, the owner or registrant of the vehicle involved in the crash must be insured under a personal protection insurance (PIP) policy, or must have provided security approved by the Michigan Secretary of State.
If there is a valid Michigan no-fault policy in place (as required by law of all Michigan drivers), coverage applies to the insured party and passengers involved in the auto accident, as long as it occurs in the United States (including U.S. territories and possessions) or in Canada, and as long as the injured person is:
a named insured under the policy, or
a spouse or relative of a named insured, who is domiciled in the same household or an occupant of a vehicle involved in the accident.
On the other hand, if an injured person is not a named insured under a Michigan no-fault policy and is not a relative domiciled with the insured party, to make a claim for no-fault PIP benefits:
the injured person must be occupying the motor vehicle.
the vehicle's owner must be insured under a policy covering the vehicle that was actually involved in the accident.
Notably, one of the biggest dangers facing summertime travelers is the number of semi-trucks traversing the highways. The sheer size of these vehicles often makes a semi-truck accident more catastrophic than collisions with passenger vehicles.
Remember: if you're injured in an accident with a semi-truck in another state, Michigan's no-fault law applies — that is, you're entitled to certain semi-truck accident benefits, which are the same PIP benefits that you'd receive if you were in a crash with a passenger vehicle. These benefits will usually be provided by your own auto insurer. In some cases, you may also be able to file a trucking accident claim, asserting negligence against the semi-truck driver.
---
What About Rental Car Accidents In Another State?
If you rent a vehicle to take a trip or rent a car when you reach your final destination, you may also be entitled to Michigan no-fault benefits if you're in a car accident in another state.
Michigan no-fault insurance applies even if someone is not operating his or her own vehicle — in other words, a rental car. As long as there is a Michigan no-fault policy in place that covers the injured person, medical benefits will be provided. This means that, to have medical costs covered, you don't necessarily need to buy the rental car insurance that's usually offered at the rental counter.
Take note, however, that Michigan no-fault insurance does not cover 1) property damage or 2) theft when you're driving a rental car. So it's always a good idea to check with your auto insurer about the extent of your auto insurance coverage. If theft and property damage are not part of your coverage, then you may want to purchase the supplemental insurance that's offered by the rental car agency.
Also remember that credit card companies frequently offer insurance for damage and theft, as long as the credit card is used to pay for the rental car. But be advised that this coverage may exclude certain types of vehicles and the over-the-counter rental car insurance will likely have to be turned down first.
In this video, Grand Rapids auto accident attorney Tom Sinas talks about Michigan no-fault insurance and out-of-state accidents.
---
Travel Tip: Understand Your No-Fault Coverage Before Leaving
Before traveling anywhere, it's a good idea to review your auto insurance policy and accurately determine the Michigan no-fault coverage that it provides. This way, you can make sure you and your loved ones are sufficiently covered in the event of a car accident in another state.
If you are uncertain whether your no-fault policy provides adequate PIP coverage for an auto accident in another state or whether it includes rental cars, you should contact your insurance agent and ask some questions.
If you're involved in a car accident in another state — whether in your own vehicle or in a rental car — our Michigan auto no-fault attorneys are available to answer your questions and help determine your legal rights. Contact our Lansing car accident lawyers or Grand Rapids auto accident attorneys today for a free consultation.