Out-Of-State Drivers Involved in Michigan Accidents: Impacts of the Recent No-Fault Reform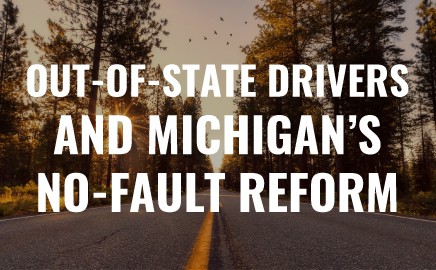 Summer typically brings in a wave of tourism to Michigan as out-of-state visitors flock to our state's many shorelines and recreation sites. However, in 2020 these visitors could encounter surprises beyond just lakeshore erosion. Effective July 1st, 2020, Michigan's auto insurance law reforms will impact out-of-state drivers involved in Michigan car accidents, as well as Michigan residents.
Changes to Michigan's No-Fault PIP Benefits
Before Public Acts 21 & 22 were passed, out-out-state residents injured in Michigan auto accidents were eligible to receive PIP benefits. But under the new reformed law, unless operating a vehicle that is registered and insured in Michigan, out-of-state drivers involved in Michigan accidents are disqualified from receiving any PIP benefits. As MCL 3113(c) now states: "A person is not entitled to be paid personal protection insurance benefits if. . . [t]he person was not a resident of this state, unless the person owned a motor vehicle that was registered and insured in this state."
What Happens to Out-Of-State Drivers Involved in Michigan Accidents?
With the changes to Michigan's Auto No-Fault Law, an out-of-state resident's only legal remedy is now through tort law. This means that any recovery must be brought through a lawsuit against the driver responsible for the collision. Now, all forms of economic loss, including medical expenses, can be pursed in tort – with a few caveats.
In order to pursue a claim, the out-of-state resident must have sustained what is called a "threshold" injury. In short, a threshold injury is severe enough it impacts daily life.

Every tort claim is subject to the modified comparative fault rule under Section 3135. Therefore, if the out-of-state resident is found the be more than 50% at fault for the collision, they are ineligible to recover anything for their losses.
How Do These Changes Impact Michigan Residents?
An unfortunate side effect of this already problematic reform is the additional impact on Michigan residents. Now that out-of-state drivers involved in Michigan accidents are only eligible to cover their losses under tort law, Michiganders are liable for the injured party's medical expenses. This is regardless of whether or not the Michigan driver has an unlimited no-fault PIP policy. If you, as a Michigan resident, were not already concerned, this point, in particular, should stand out. Because out-of-state drivers must now recover all damages through tort, Michigan drivers found to be 51% or more responsible for the accident are on the line for all the injured party's damages. Therefore, we recommend loading up on as much liability coverage on your auto insurance as possible.
Unfortunately, this aspect of the no-fault reform went into effect on June 11, 2019, over a year before the mandatory increases in liability insurance limits (See MCL 500.3009(1)(a).
As insurers begin selling PIP "choice" options that cap a victim's PIP benefits, Michiganders are at risk of unknowingly purchasing coverage short of what they need to protect themselves in the case of an accident. This could result in a lifetime of debt and lost access to necessary care for injured victims. The best way for Michigan residents to protect themselves under this reform is to increase their liability insurance limits to as much as they can afford.
Authored by Grand Rapids car crash lawyer, Tom Sinas