I-96 I-69 Accidents In Lansing Average Nearly 100 Each Year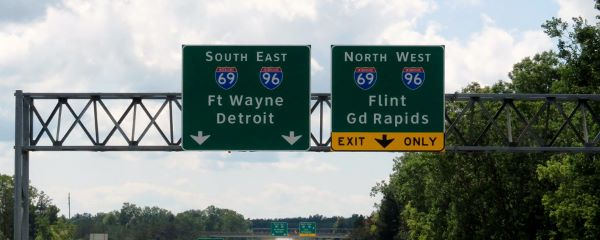 The I-96 I-69 interchange in Lansing is a major artery through which hundreds, if not thousands, of motorists travel every day. As such, the interchange has its fair share of fender benders, as well as serious collisions. In the last five years, there were a total of 437 crashes along the interchange, an average of 87 per year.
While the number of fatal crashes in the area remains low at the interchange an I-96 I-69 accident in 2015 killed a 13-year-old boy and injured several of the boy's family members, who were thrown from the SUV in which they were riding. A two-vehicle crash at I-96 I-69 in 2016 left one passenger dead, while others suffered various injuries.
After the deadly collisions in 2015 and 2016, it was hoped the risks associated with this stretch of highway, for both passenger vehicles and semi-trucks, might make people a bit more cautious, prompting them to travel the posted Michigan speed limit and pay closer attention to the roadway — including putting down their cell phones while driving.
There's good news and bad news on the overall crash front for the interchange. While there was a decrease in the number of crashes in 2020 (62), compared to 2018 (107) and 2019 (104), it's been reported that there were fewer people on the roadway due to the pandemic, which may have led to a decrease in the number of crashes.
I-96 I-69 Accidents: The Numbers:
115 Deer Involved Crashes
9 Alcohol Involved Crashes
4 Drug Involved Crashes
20 Distracted Drivers
48 Truck or Bus Involved Crashes
9 Construction Area Crashes
Data pulled from Michigan Traffic Crash Facts website.
I-96 I-69 Accidents: What Are The Dangers?
The I-96 I-69 interchange is an extremely busy area with several exits leading to other heavily traveled roadways, including Saginaw Highway and St. Joe Highway. The interchange sits at what some may call a "crossroads," because it allows motorists to travel to virtually any part of Michigan. Once at the interchange, motorists can:
Head west on I-96 into Grand Rapids or Holland. They can then choose to go north on US-131 toward Muskegon, Manistee, and Traverse City, or south on US-131 toward Battle Creek and Kalamazoo.
Travel east toward Flint by taking the I-69 exit. From I-69, motorists can then head north on US-127 toward Mount Pleasant.
Drive east on I-69 and eventually hit the I-75 exit, taking them into the Detroit suburbs.
There are several factors that make the I-96 I-69 interchange a particularly dangerous area. They include:
It is a major thoroughfare.
The exit ramps can come upon drivers rather quickly.
One exit ramp (onto westbound Saginaw) includes a sharp turn and, if motorists don't appropriately slow down for the exit, they can find themselves unable to navigate the steepness of the curve.
One exit ramp (onto eastbound Saginaw) involves drivers merging into the exit lane, which is shared by those motorists who are also entering and merging onto I-96 I-69.
Reducing Accidents At The I-96 I-69 Interchange
It has been asserted that the installation of guardrails may help reduce I-96 I-69 accidents. In fact, it was alleged that the 2015 fatal crash at the interchange may have been prevented if a guardrail had been in place because the crash involved a vehicle that crossed the median and collided with an oncoming vehicle.
While the size and speed of a vehicle can affect guardrail performance, it has been shown that this type of barrier does, indeed, help make roadways safer. Guardrails can also lessen the severity of crashes and, as a result, decrease the severity of a Michigan car accident injury.
Guardrails can be beneficial for other reasons, too. They can deflect a vehicle that has veered off the roadway back onto the road. At times, they can also completely stop a vehicle.
Because a significant portion of I-96 I-69 accidents involve vehicles striking deer, a guardrail may also deter deer from crossing and entering the highway, thereby reducing the number of crashes and injuries.
In the end, the installation of more guardrails on I-96 I-69, and other dangerous roadways in Michigan, would certainly be helpful. In addition, motorists can travel more safely to their destination if they drive the posted 70 mph speed limit, slow down at the exits and avoid distractions while driving.
If you've been injured in a car accident at the I-96 I-69 interchange, or on any roadway across Michigan, the Sinas Dramis Law Firm can protect your right to no-fault PIP benefits and help you pursue an auto negligence claim against an at-fault driver. Contact our Lansing car accident lawyers or Grand Rapids auto accident attorneys today for a free initial consultation.