Sinas Dramis Announces Corporate Law Firm Name Change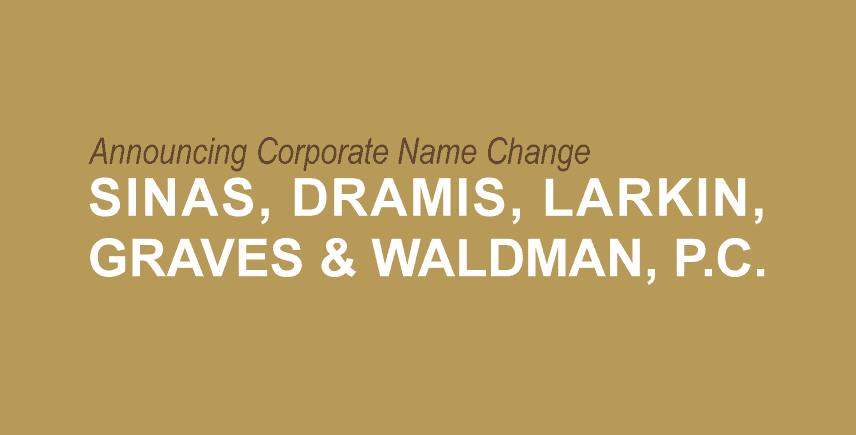 We are pleased to announce that, in order to reflect our current leadership and best serve our clients, we have changed our formal corporate name from Sinas, Dramis, Brake, Boughton & McIntyre, P.C. to Sinas, Dramis, Larkin, Graves & Waldman, P.C. In all aspects other than legally and formally, the Sinas Dramis Law Firm remains unchanged. We continue to operate exactly as we have for the last seven decades, offering unparalleled legal representation in the areas of personal injury.
Under our new law firm name change, we honor our partners and senior-most attorneys who have dedicated the vast majority of their careers at the firm and continue to vigilantly advocate for the injured in Michigan.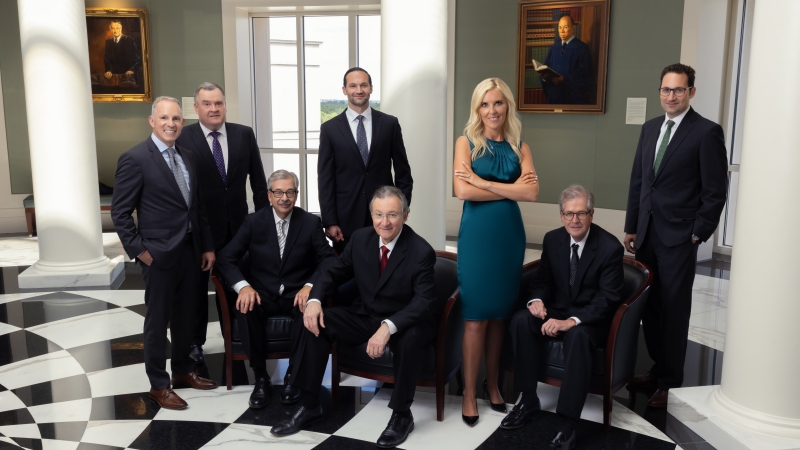 George T. Sinas
As the firm's managing partner, George has represented the seriously injured in Michigan for more than 35 years. His career is highlighted by numerous recognitions and awards, including the 2018 Cline-Schreier Award for Excellence and the 2018 Thomas E. Brennan Lifetime Achievement Award.
Michael E. Larkin
A distinguished personal injury attorney and auto no-fault expert, Mike primarily focuses his practice on cases involving motor vehicle accidents in Michigan. As such, he works closely with clients facing severe, life-altering injuries. He passionately fights for their rights to the treatment, services, and compensation they deserve.
James F. Graves
Jim is a skilled personal injury litigator with numerous successful results over the course of his career. His practice encompasses a wide range of case types, including multiple high-profile airplane crash cases and many sexual assault claims requiring utmost sensitivity and thorough understanding of the law.
Bryan J. Waldman
As an avid cyclist, Bryan passionately defends and protects the rights of Michigan bicyclists as part of his overall personal injury practice. He authors and routinely updates the Legal Handbook for Michigan Cyclists and distributes them throughout the state.
Stephen H. Sinas
Steve is a personal injury attorney who works vigorously to recover fair compensation for those injured as a result of the negligence or wrongdoing of others. He is an adjunct professor at Michigan State University College of Law where he lectures extensively on Michigan's auto no-fault system. He also co-authors No-Fault Red Book Online, the most comprehensive online resource that covers no-fault developments and case summaries.
Thomas G. Sinas
Manages our Grand Rapids office and has served in leadership roles at Grand Rapids Bar Association and Kent County Legal Assistance Center. He is dedicated to educating the public about the law and their legal rights, and as such appears weekly on Fox 17's Know the Law.
This is an exciting time at the firm. We are continually making adjustments to accommodate our rapid growth and promising future as we work diligently for our clients. The official law firm name change is just one of the many exciting recent changes at Sinas Dramis.
Expanding the Sinas Dramis Tradition of Excellence
In early 2021, the firm announced the welcome addition of two new partners – Brian McKenna and Katie Tucker.
Brian A. McKenna
Brian McKenna joined Sinas Dramis in 2018 after a seasoned and successful career as a plaintiff's personal injury lawyer. An integral member of the Southeast Michigan legal community, Brian was vital in opening the firm's fifth office, located in Saint Clair Shores. Brian offers the partner team a deep wealth of knowledge in a variety of personal injury practice matters and exceptional dedication to the people and communities in Metro-Detroit.
Catherine E. Tucker
Catherine (Katie) Tucker focuses her practice on representing the rights of individuals injured in collisions involving automobiles, motorcycles, and semi-trucks in the state of Michigan, as well as representing the various medical providers that render care and treatment to these individuals. In that capacity, Katie handles the majority of the firm's medical provider claims, working with medical professionals and treatment centers throughout Michigan.