"Pokemon Go" Presents Distraction, Public Safety Concerns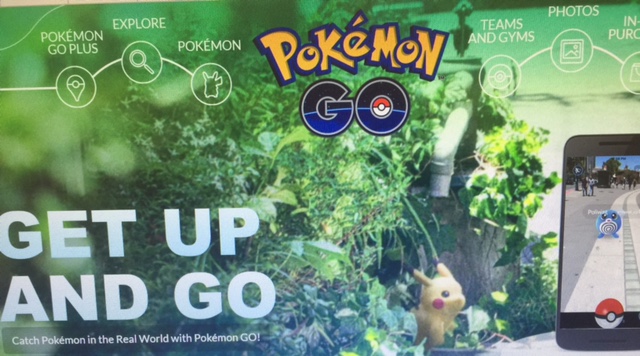 Pokemon Go is sweeping the globe. Nearly 21 million daily users are playing the game on their smartphones, hunting for virtual Pokemon creatures that pop up in some rather unusual locations. But while the app might be fun, it has also become a major distraction for players, and a genuine public safety concern.
Here's the deal. Pokemon Go users are not only walking and looking down at their smartphones while playing the game, but are also driving and bicycling. A Pennsylvania mother claims her 15-year-old daughter was hit by a car on July 12 while playing Pokemon Go. Bicycling magazine has offered tips on how to stay safe while riding and using the app. And there are reports of players running into traffic and into dark alleys at night, trying to capture their Pokemons.
What exactly is Pokemon Go? It's a game where smartphone users download the Pokemon Go app, and then use it to hunt virtual-reality Pokemon characters that are placed somewhere in the player's vicinity. The creatures can be anywhere — name the location and a Pokemon character will likely show up. People are finding Pokemons in public parks and bathrooms, at the beach, in graveyards, in courthouses, at police stations … and even at the White House. Basically, players all over the world are having a blast hunting Pokemons.
But part of the public safety concern is this: players are going anywhere — even on private property — at anytime to capture the creatures. Despite a warning on the app that says users are responsible for their own safety, players are trespassing onto others' property to find Pokemons, leading to unwanted confrontations and increasing their risk of personal injury, and even death. In fact, a hunt for Pokemons in Missouri reportedly led players into a trap set by armed robbers.
The bottom line is that a swarm of legal issues and public safety concerns have reared their head since Pokemon Go was released on July 7. Some of the yet-to-be-addressed legal questions are:
Is there any liability for placing Pokemon creatures in locations that may present dangers or on private property?
Does placing a Pokemon character on private property, without permission of the owner, impact the owner's interest in exclusive possession of the property?
Does placing a Pokemon character on private property create an attractive nuisance and, if so, what is the liability?
That's not all.
Pokemon Go distracts players by forcing them to constantly look at their smartphones. This means players are focusing on their Pokemon virtual-reality world, and are ignoring their real-world surroundings. While most users are walking with their smartphones and playing the game, some people are reportedly playing Pokemon Go while driving their cars and riding their bicycles, adding to already-existing concerns over distracted driving.
Another concern is that the Pokemon Go website encourages users to take photos while playing the game. The Pokemon Go website says:
"Snap photos of Pokémon with Pokémon GO! When you encounter a wild Pokémon, you can enable a view that uses the camera on your smartphone to display real-life surroundings as the background, making it appear as if the Pokémon is with you in the real world!"
So if people are playing Pokemon Go while driving or bicycling and the game is already distracting them, taking photos leads to an even greater risk of injury to the player, or even someone else.
The Pokemon Go craze has prompted the National Highway Traffic Safety Administration to issue a warning on Twitter. The NHTSA considers the game a driving distraction, similar to other apps, like the speed-capturing filter on Snapchat. On July 8, the NHTSA tweeted: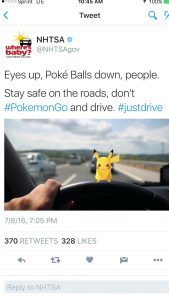 In addition, the National Safety Council is urging motorists not to use Pokemon Go behind the wheel, and is encouraging bicyclists not to open the app while riding and pedestrians to use caution while walking and playing the game.

But here's the catch for anyone who might be injured while playing Pokemon Go.
The app's "terms of service" includes a disclaimer, and players automatically agree to the terms when they download the game. The disclaimer says the company that makes the app is not responsible for:
property damage.
personal injury or death while playing the game.
claims based on a violation of any other applicable law.
Presumably, this disclaimer would apply to claims brought under Michigan's auto no-fault, personal injury, wrongful death and bicycle laws. The app's terms of service also contains an arbitration clause, which means an arbitrator (not a court) will resolve any legal dispute.
Will this disclaimer be successful in thwarting claims that may arise from playing Pokemon Go, including auto accident and other personal injury claims? Time will tell.
In the meantime, have fun … and please be careful when capturing your Pokemons!