Anderson Survivors Reach $490 Million Global Settlement with the University of Michigan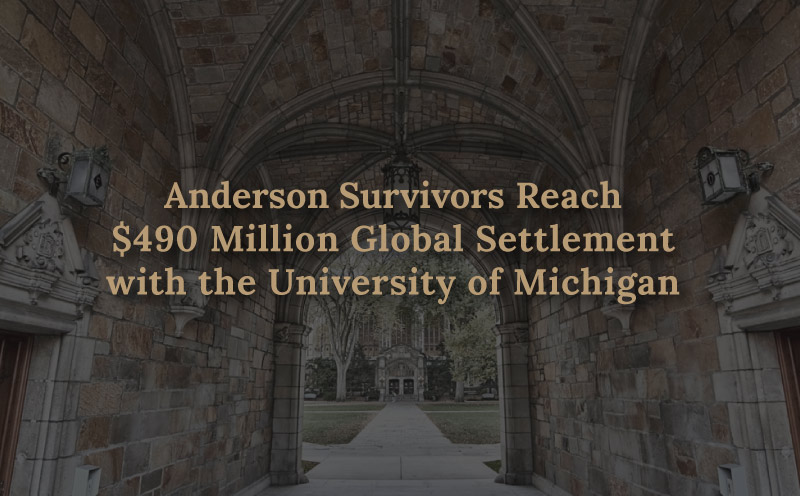 Former University of Michigan students who have come forward in reporting sexual assault by the late Dr. Robert Anderson, a former football team doctor for the University, have reached a $490 million global settlement with the University to resolve all survivor's claims against the institution. Over 1,000 former students have come forward to take part in this lawsuit, claiming that University officials were aware of the abuse and failed to take appropriate action to protect students.
Although this settlement can't erase the trauma that these survivors experienced, it has already led to higher standards of accountability within the University to prevent future abuse within the institution, as posted on their Office of Public Affairs website.
The University of Michigan Sexual Abuse Investigation
In 2018, inspired by sexual assault survivors of Michigan State University doctor Larry Nassar coming forward and reaching a historic $500 million settlement, a former University of Michigan athlete reported Anderson's abuse to the then-current Athletic Director at the University. This led to the opening of an investigation into sexual assault allegations against Dr. Robert Anderson, and it was found that numerous students had reported the misconduct to various University officials from as far back as the 1970s.
Allocation of the $490 Million Global Settlement
Of the $490 million global settlement, $460 million will be allocated among the over 1,000 claimants that have already come forward in this case. The allocation of this portion will be decided between claimants and their attorneys. The other $30 million will be reserved for any future claimants that may choose to participate in the settlement before July 31, 2023.
"While it is encouraging that the institution is being held accountable, it is concerning that so many have shared this awful experience and are only now receiving some form of justice," says Michigan sexual assault lawyer, Jim Graves. "I sincerely hope this case gives institutions yet another reason to put standards in place to protect students from this type of tragedy and prevent it from happening again."
If you have experienced institutional sexual abuse, there is still time to come forward about your experiences and access the support you need in moving forward.
---
When you are ready to contact a Michigan sexual assault lawyer and take the first step in pursuing justice, our team of experienced attorneys is available to help you with compassion and confidentiality.