Dr. Robert Anderson and the University of Michigan Sexual Abuse Investigation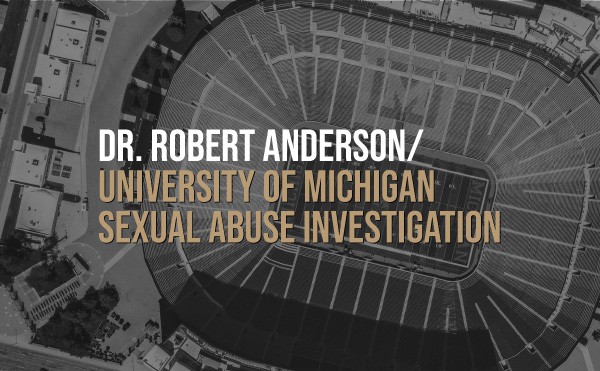 In early 2019, the media broke a story we hoped to never hear again. Another Michigan university was under investigation for alleged claims of sexual abuse. This time, much the same as the tragic case at Michigan State University, the victims were former college students and athletes. Over the past several months, we have learned about the ongoing University of Michigan sexual abuse investigation regarding former sports doctor, Dr. Robert Anderson. Having represented numerous Sister Survivors in the Larry Nassar case at MSU, as well as having played a role in obtaining the historical $500 million global settlement on their behalf, Jim Graves, a respected Michigan sexual assault lawyer, offers the following information in hopes of helping those affected by this tragedy at U of M.
History of the University of Michigan Sexual Abuse Investigation
University of Michigan police opened an investigation into late Dr. Robert Anderson in July 2018 after athletic director Warde Manuel received notification of allegations stemming back to the 1970s. In February 2019, the University of Michigan publicly acknowledged it was conducting an investigation into claims of sexual abuse and misconduct. Early investigations revealed that, despite being forced out of student health services in 1979 for allegations of sexual misconduct at that time, Anderson continued to treat students for another 24 years at the University. Anderson not only continued working at the University of Michigan, but he also went on to become a top doctor for the school's football team until his retirement in 2003. In total, Anderson worked for the college from 1968 to 2003. He passed away in 2008. During his time at the school, Anderson allegedly abused hundreds of students and former athletes (nearly 400 complaints have been filed to date). While the majority of the victims appear to be men, numerous women have also begun coming forward about the abuse they experienced as well.
The University of Michigan sexual abuse investigation is still currently underway. In June, the University reached out to 300,000 former students who were on campus between the mid-1960s and early 2000s. The University encouraged anyone with information regarding the late Dr. Robert Anderson to come forward. If you were assaulted by Dr. Anderson, we encourage you to speak up and consider taking legal action.
Sexual Assault Statute of Limitations
Michigan's sexual assault statute of limitations varies between minors and adults and based on criminal versus civil claims. Thanks in part to the #MeToo movement and the Nassar/MSU tragedy, Michigan passed Public Acts 180 and 181 in 2018 extending the Michigan sexual assault statute of limitations for victims. What happened at the University of Michigan should not be covered up or brushed aside. There's still time to speak up about your experiences.
"What happened at the University of Michigan is an absolute tragedy," says Jim Graves, an experienced sexual abuse lawyer in Michigan. "I have represented survivors under very similar circumstances at Michigan State University and, while hearing these stories never gets easier, helping to obtain justice on behalf of these students and athletes has been one of the pinnacles of my career. Holding these institutions accountable for failing to protect innocent victims not only delivers justice on behalf of the survivor but brings action and reform that will protect future students as well."
We know from a statistical standpoint, many people may not feel comfortable coming forward. Rape and acts of sexual misconduct are two of the most under-reported crimes. However, your story and your experience matter. When you are ready, our team of attorneys experienced handling complex sexual assault cases in Michigan are standing by to listen and offer support. Contacting an experienced Michigan campus sexual abuse lawyer is the first step to take in pursuit of justice for yourself and others.