Can Victims Of Michigan Semi-Truck Crashes Get No-Fault Benefits?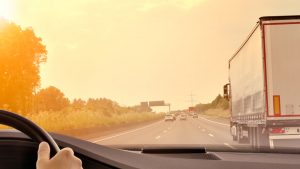 Michigan semi-truck accidents are some of the deadliest accidents on the roadways. Every year, there are often over 10,000 heavy trucks and buses involved in collisions on Michigan highways. Nationwide, studies show that 98 percent of semi-truck crashes result in at least one fatality — and about 86 percent of these deaths are not the semi-truck driver.
To help reduce fatalities, the National Highway Traffic Safety Administration and the Federal Motor Carrier Safety Administration have proposed a "speed limiter" rule for new vehicles that weigh more than 26,000 pounds. Speed limiters would cap the speed of large vehicles at 60, 65 or 68 mph (to be determined). Although the rule hasn't yet been implemented, it is asserted that speed limiters will help save lives, save billions in fuel costs and benefit the environment.
If you're seriously injured in an accident with a semi-truck or another large vehicle, the question becomes: does auto no-fault apply to your Michigan semi-truck crash? The answer is yes!
When you are involved in a semi-truck accident, Michigan's auto no-fault law comes into play, just as if you were injured in a collision with a passenger vehicle. Under the auto no-fault law, you can collect:
lifetime medical benefits for allowable expenses.
lost wages for three years.
replacement services for three years.
But be extra careful if you're injured in a Michigan semi-truck crash because they differ in many ways from passenger vehicle collisions. Semi-truck accidents are more complicated because both state laws and federal trucking regulations apply. These laws and regulations cover things like insurance requirements, record keeping, and record retention. Semi-truck crashes are also more complex because multiple insurance policies and multiple parties are usually involved.
In this video, Grand Rapids auto accident attorney Tom Sinas talks about how semi-truck crashes differ from accidents involving a passenger vehicle.
If you've been injured in a Michigan semi-truck crash, you need to speak with an attorney who's experienced in handling semi-truck accident cases, who knows the complex issues involved and who understands the application of both federal and state law. Our Michigan semi-truck accident lawyers understand exactly what's at stake in these kinds of claims. Contact us today for a free consultation.