Sinas Dramis Attorneys Included in 2016 "Best Lawyers"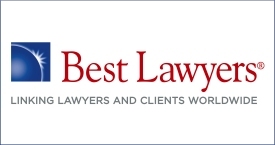 Lansing personal injury and family law attorneys recognized in 2016 Best Lawyers in America
Please join us in congratulating our Lansing personal injury and family attorneys recognized in the 2016 Best Lawyers in America publication for excellence in their respective practice areas:  George Sinas (Personal Injury Litigation – Plaintiffs), Tim Donovan (Personal Injury Litigation – Plaintiffs), Bernie Finn (Family Law), Jim Graves (Personal Injury Litigation – Plaintiffs), and Bryan Waldman (Personal Injury Litigation – Plaintiffs).
George Sinas
Tim Donovan
Bernie Finn
Jim Graves
Bryan Waldman
What makes recognition by Best Lawyers unique is the fact that the list is peer-reviewed; other lawyers are asked to evaluate the lawyers who were nominated for inclusion on the list. One cannot pay for inclusion on the final listing.
Having a number of our partners recognized in the latest edition of Best Lawyers in America is a testament to the strength of our entire legal team. Since the firm's conception in 1951, the Sinas Dramis legal team has been known for its dedication and pursuit of excellence and justice on behalf of clients, the legal profession, the medical community, and the people of Michigan.
In addition to representing people across Michigan, our firm's attorneys have held leadership positions in various legal, professional, and advocacy organizations, have lectured and written articles on Michigan no-fault, personal injury, and family law.
We are proud of the accomplished and distinguished legal careers enjoyed not only by the 2016 Best Lawyers honorees but all of the attorneys at the Sinas Dramis Law Firm.
If you are in need of legal representation for your personal injury, contact one of our lawyers for a consultation at no charge to you.