Jim Graves Named 2017 "Leader In The Law"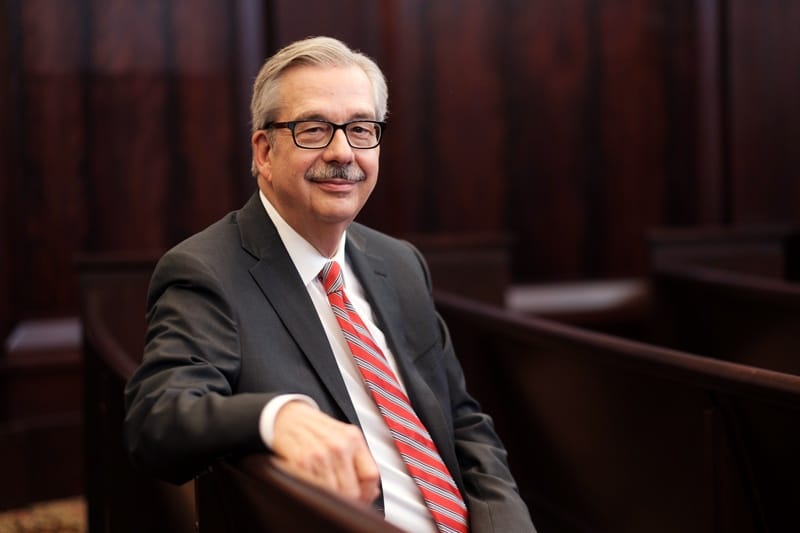 Jim Graves has been named a 2017 "Leader in the Law" by Michigan Lawyers Weekly, a statewide legal publication.
"Leaders in the Law" are chosen for their significant accomplishments in law practice; outstanding contributions to the practice of law; leadership in improving the justice system; improving the legal community and their communities at large; and setting an example for other attorneys.
"It is truly an honor, and humbling, to be recognized by Michigan Lawyers Weekly with this award," Jim says.
Jim, a shareholder at Sinas Dramis, focuses his practice on plaintiffs' personal injury, wrongful death and auto no-fault law. He also devotes a portion of his practice to claims involving highway defect and construction zone negligence, governmental liability and nursing home abuse.
It is no exaggeration to say that Jim's career has been — and continues to be — stellar. He has represented injured plaintiffs in hundreds of cases, many of which have taken years, even decades, to resolve. Here are just a few examples.
Jim represented the family of a 19-year-old Michigan woman who died in the 1988 terrorist bombing of Pan Am Flight 103 over Lockerbie, Scotland, which killed 270 people. While many Michigan residents perished in the bombing because the flight's ultimate destination was Detroit, Jim was the only Michigan attorney retained by the family of a victim (most families chose East Coast attorneys to represent them). The case involved multiple layers of litigation and numerous defendants, including Pan American Airlines, the Republic of Libya and others. The sheer complexity of the case was staggering and, in the end, Libya agreed to a $10 million settlement with each family. In 2008 – two decades after the bombing – Jim's clients finally received their first settlement payment. Reflecting on the case, Jim says: "I've had some unusual cases, but nothing that can compare to this one."
Jim represented families who lost loved ones in the American Airlines Flight 191 crash at Chicago's O'Hare Airport in 1979. More than 270 people perished, making it the deadliest aviation crash to have ever occurred in the United States.
Jim represented the family of a spectator who was killed at Michigan International Speedway (MIS) in 1998, when a driver's car crashed, hurling a tire, part of the suspension and other debris into the grandstand. MIS subsequently extended the protective fencing around the grandstand, to help prevent future accidents.
Jim represented numerous women who were seriously injured by the A. H. Robins Company's Dalkon Shield IUD. At the time, it was the largest tort liability case since the nationwide asbestos litigation.
To this day, Jim is committed to helping injured individuals and their families, and to making the world a safer place for everyone. Among his many current clients is a woman who contracted Legionnaires disease as a result of the Flint water crisis.
As a consummate professional, Jim believes in giving back to the legal community. He has served as president of the Ingham County Bar Association and the Ingham County Bar Foundation, and he currently serves as a Foundation board member. He is a member of the American Board of Trial Advocates (ABOTA), the Michigan Association for Justice (MAJ) and the Coalition Protecting Auto No-Fault (CPAN). He is a past regional chair of the State Bar of Michigan Access to Justice Fund and a former member of the State Bar Judicial Qualifications Committee. He also co-authored the "Toxic Torts" section of the Michigan Causes of Action Handbook, published by the Institute of Continuing Legal Education (ICLE).
Jim received the prestigious "Leo A. Farhat Outstanding Attorney Award" from the Ingham County Bar Association in 2004. He has been recognized as a "Leading Personal Injury Plaintiff's Lawyer" by Leading Lawyers each year since 2013, and has been named in every edition of "The Best Lawyers in America" since 2006, with that same publication recognizing him as the "Lansing Personal Injury Litigator of the Year" for two consecutive years. In addition, the National Trial Lawyers Association has named him one of the "Top 100 Trial Lawyers" in personal injury law each year since 2011.
In his spare time, Jim enjoys fly fishing. This is one reason why he became involved in the John D. Voelker Foundation some 25 years ago. He has served as vice-president of the Foundation and is currently a board member. The Foundation is a non-profit organization established to honor former Michigan Supreme Court Justice John D. Voelker, an avid fly fisherman and author of Anatomy of a Murder.

Jim graduated from Wayne State University Law School and is admitted to practice in both Michigan and Illinois.
If you've been hurt in an accident or have suffered the wrongful death of a loved one, contact Jim and our other experienced Michigan personal injury attorneys for a free consultation.