Attorney Jim Graves Discusses $600 Million Flint Water Crisis Settlement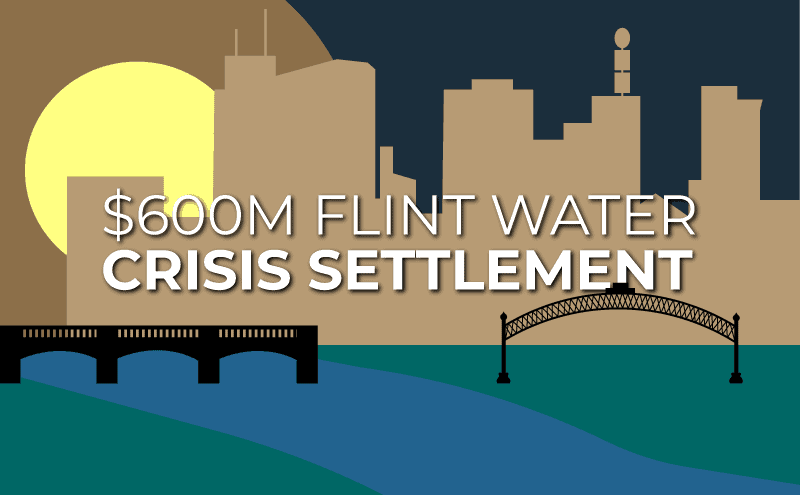 Late in the day on Wednesday, August 19, 2020, word began to spread regarding a preliminary agreement in the settlement of the Flint water crisis with the state of Michigan. While the reports came from unidentified sources close to the case, media attention the following day, as well as messaging from Attorney General Dana Nessel, confirm a Michigan-backed $600 million Flint water crisis settlement has been reached. More details to come in the days and weeks ahead. As one of the many plaintiff's personal injury lawyers handling Flint water-related cases, Michigan personal injury attorney, Jim Graves expressed satisfaction with the Flint water crisis settlement development, despite no official condolences by local and state government officials.
Jim has worked closely with a family for the past five years who lost a loved one due to Legionnaires' disease as a result of the Flint water crisis. He took the opportunity to discuss this historic development.
History of the Flint Water Crisis
One must have a basic understanding of the water crisis in Flint in order to understand this recent development. The man-made crisis began in April 2014 when Flint started drawing its water from the Flint River. Prior to that, the city's water came from Lake Huron. Despite the switch in sources, city officials failed to add corrosion-control treatments to the new water supply. Because the water in the Flint River is highly acidic, it began leaching rust, iron, and lead from the city's aging pipes into the water supply. This would not have happened had anti-corrosion chemicals been added by the city of Flint to treat the water and make it safe for drinking and use.
Lead concentrations in water should not exceed 15 parts per billion. However, in certain areas of Flint, tap water tested at 866 times that limit of lead. Lead in water causes a host of issues. Children are particularly susceptible because their brains and neurological systems are still developing. Lead exposure can cause brain damage, developmental disabilities, coma, seizures, and even death.
In addition, experts have linked two outbreaks of Legionnaires' disease (resulting in 13 deaths) with the Flint water crisis. Legionnaires' is a severe form of pneumonia and lung inflammation. Jim Graves, as well as our Flint water crisis legal team including attorney Joel Finnell are currently actively pursuing wrongful death and other damages against the state and other private defendants.
$600 Million Flint Water Crisis Settlement
The preliminary settlement (which still needs court-approval and legislative funding) is truly historic in that it includes Legionnaires' victims. Up until the announcement of the settlement, the state of Michigan has continually denied the correlation between the water crisis and Legionnaires' disease. Now, it seems, the state is taking ownership that the lead contamination, indeed, caused this disease in many people, primarily those over 65-years-old.
In addition to including those who contracted Legionnaires', the majority of the Flint water crisis settlement will be appropriated to minors. According to the Washington Post, which obtained a copy of the settlement, 80% of the proceeds will go to children under the age of 18 at the time of their contamination. More than half will go to children who were under the age of six.
"The settlement in the Flint water crisis is the first step toward recovery for the families affected by this tragic and avoidable event," says Lansing-based personal injury lawyer, Jim Graves, who has been involved in this case for several years. "I was particularly proud to learn that the state is finally acknowledging those who contracted Legionnaires' due to this catastrophe."
Help for Contaminated Flint Water-Related Injuries
If you or a loved one were injured by drinking and/or using contaminated water in 2014-2015, it's important to protect your legal rights by contacting a lawyer. While this specific settlement is for civil claims against the state only, additional criminal claims and claims against private defendants continue in litigation. These claims are complex, so it's important to consult with experienced legal aid. Contact Sinas Dramis today for a free, confidential personal injury consultation.
Flint Water Crisis Discussed on WLAJ 53 "In the Name of the Law"
Steve Sinas was joined by Jim Graves, and Jon Homa – two Sinas Dramis attorneys who are currently working on Flint water claims – to discuss this very complex case.