Super Lawyers Recognizes 10 Sinas Dramis Attorneys in 2020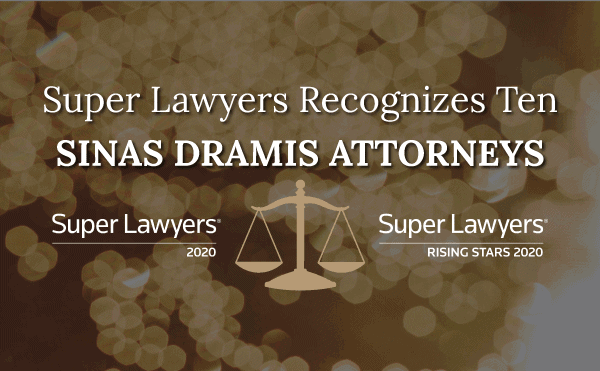 We are proud to announce that 10 of our attorneys have been included in the Michigan Super Lawyers and Rising Stars lists in 2020! Additionally, and of notable mention, this year's Michigan Super Lawyers list includes newcomer, Lansing personal injury attorney Kevin Komar! This is Kevin's first time being listed as a Michigan Super Lawyers in general plaintiff's personal injury.
The full 2020 Super Lawyers list includes the following Sinas Dramis attorneys:
Achieving Super Lawyer and Michigan Top Lawyer Status
Sinas Dramis partner George Sinas is additionally recognized as a Top 100 Michigan Super Lawyers in 2020. George received among the highest points during an extensive selection process, garnering him the additional recognition as a Michigan Top 100 Lawyer.
Michigan personal injury lawyer, Kevin Komar, is included in this year's Super Lawyers list for the first time. Kevin continuously demonstrates exceptional client care and professional achievement in personal injury and auto no-fault law. He has proven to be a valuable representative for Michigan's injured in need of legal care, and we are so happy that we are not the only ones to recognize his successes!
What is the Criteria to be Listed in Super Lawyers?
Recognition by Super Lawyers is only granted to the top 5 percent of attorneys in over 70 practice areas around the state. The Rising Stars list recognizes only the top 2.5 percent of attorneys aged 40 and under, or those who have been in practice for 10 years or less. Super Lawyers combines peer nomination and evaluation with independent research that analyzes 12 indicators of professional achievement. Listed attorneys have the honor of being recognized by outside sources as credible legal counsel to the public.
Please join us in congratulating our team members for their accomplishments!