Sinas Dramis Attorneys Named in Michigan Super Lawyers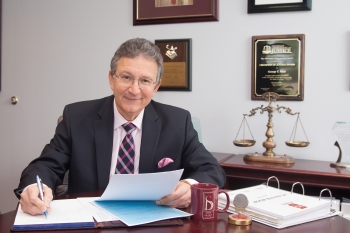 Seven Personal Injury Lawyers have been recognized by Michigan Super Lawyers
We are pleased to announce that seven of the personal injury attorneys at the Sinas Dramis Law Firm have been recognized in the publication Michigan Super Lawyers in the Plaintiffs Personal Injury category: George Sinas, Tim Donovan, Jim Graves, Bryan Waldman, Steve Sinas, Joel Finnell, and Tom Sinas. Attorneys are recognized based on a number of factors relating to their professional achievements during their legal careers, as well as a vote of their peers.
Joel and Tom's recognition is especially notable in that this is the first time they have been included in Michigan Super Lawyers, having been recognized as "Rising Stars." In order to be a Rising Star, an attorney must be either 40 years old or younger, or have been in practice for less than 10 years.
Both Joel and Tom have done outstanding work since joining the firm. Joel Finnell originally started as a law clerk, and now serves as our in-house appellate lawyer focusing on personal injury, car accident, motorcycle accident, wrongful death, and trucking accident cases. His hard work, dedication, and meticulous work has been invaluable to the firm, the clients he helps every day, and those who might one day rely on the law he shapes when arguing before the Court of Appeals and Michigan Supreme Court.
After enjoying a distinguished legal career in Minnesota, Tom Sinas helped open our Grand Rapids office in 2013, and has accomplished a tremendous amount in the short amount of time he has been with the firm, relocating to join his father, George Sinas, and brother, Steve Sinas. In addition to helping those injured in car accidents in Grand Rapids, West Michigan, and across the state, as well as serving as part of the CPAN legal team, Tom served as President from 2015-2018 at Legal Assistance Center of Kent County and Trustee of the Grand Rapids Bar Association. He actively serves on the Board of Directors at Brain Injury Association of Michigan and is a committee member of the Justice Foundation of West Michigan.
We are proud to have such great legal minds as part of the Sinas Dramis Law Firm, working with our other high-caliber attorneys to represent the people of Michigan in both personal injury and family law matters. Please join us in congratulating the honorees on their achievements!